We threw our first ever friends birthday party this year. I asked Welly what friends he wanted to invite, and mostly he named off cousins. We had both cousins and friends at the party and I think it worked out great!
I knew I wanted to have a fun theme for his party but it was hard to choose. It was between an army, Ghostbusters or a cops theme. I went for a cops theme because I thought some kids might not get the Ghostbusters and I thought I could do the cops theme cheaper than the army one.
Each guest got their own badge invitation with their name on it. I used scrapbook paper from the Book Table for the silver and just did the invite in photoshop.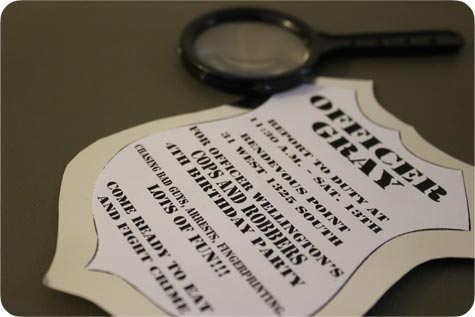 When guests arrived they found themselves in the police station (living room). Six Star Party Outlet had brick decorations for Christmas, but I thought it would be great for the police station.
To become an official police officer they had to come see me at a table. I then asked them their name (even though I already knew it), then took one hand and using an ink pad, did some fingerprints onto a 3X5 card. They seemed to like this a lot. After they had their fingerprints taken I told them they were officially a police officer now and they got a sticker badge and some handcuffs.
Click here to read the rest of this post and see some cute pics of the party