I've been meaning for a while now to share what I did to lose weight. This is just what worked for me. Keep in my mind, it was easier for me to lose more, because I had more to lose.

I also was ready to commit to it. I was WAY done feeling out of energy, big and un-healthy.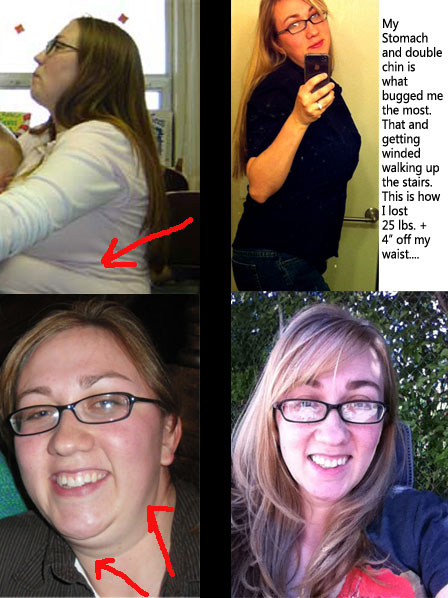 Some before and after pictures.
WHAT I DID
Exercise:

-Walking. I didn't have a set time I went, I just tried to walk more. Walk to the store, walk to a neighbors house instead of driving. Parking further away from the store entrance. I walked with the kids, I walked once to Mark's work instead of driving. Sometimes instead of walking back and forth between our house and my in-law (they live about 100 ft away, I would run, but only when it was dark.

-Insanity workout. I had a membership to a gym, I went a few times a week but I still wasn't losing any weight. It wasn't until Mark and I started using the Insanity workout that the weight started to come off. It was a WAY HARD workout but I felt way more flexible and energetic after doing the workout. I really think using this workout and the changes I made in my eating habits is what really did it. The first week of the workout was really hard but it got better I thought.

Food (I'm not using the "D" word):

I think this was the biggest factor in losing weight, because in the past I would work out like crazy and NOT lose anything or much because I didn't have the healthy eating habits to match it.

-Less portions. This is was hard for me, because I always ate a lot. I first started out just dishing out half of what I would normally dish up. Sometimes I would dish up too much and I'd just go ahead and put some back. It was hard at first but then I think after a few days my stomach shrunk or something and I couldn't eat as much anyway.

-Snacks. This helps in not overeating at lunch and dinner. I had a healthy snack in between each meal. This is how my day went…breakfast-SNACK-lunch-SNACK-dinner- then either a snack or a dessert. Snacks, for example would be nuts, fruit, an Atkin's bar. I tried to keep my snacks to 100 calories.

-Breakfast. You must eat breakfast. Gotta do it. And it's not going to be cereal or toast. This ties in with my next and I think biggest reason I lost weight. (Okay, there are limited choices on what you can eat in the way of cereal, and I'll let you know which ones you can have) Breakfast was usually eggs, fruit, or a low carb choice. Sometimes even an Atkins bar with some milk.

-LOW CARBS. I think this one of the biggest reasons I lost weight. I didn't say no carbs, just LOW carbs. I'm not going to lie this was hard! Way hard! This was harder for me then cutting down on my sweets. I limited myself to around 100 grams of carbs a day. Keep track of your carb grams for one day and you'll be surprised how much your eating. I'll let you in on all the low carb products I used and what was good and what was yuck. We (Mark did this with me) tried to stay away from all white bread, buns, doughnuts, regular tortillas, rice, pasta and cereal. At first we were going to cut all carbs, then we realized that was crazy, and after Mark had a lesson in Preisthood about moderation (thank you Brother Butt), we decided we can have some, and that's where the 100 grams came in. That is still not a lot of carbs, but while we were really trying hard to lose weight, we stuck to it, and since then we've upped that.

-LOW SWEETS or in my case NO SUGAR. Now I went a little more extreme on this one just because this is a real health issue for me. I'm well on my way to developing diabetes, with my habits and family history. So when I did want a sweet treat (which I did) it had to be sugar free. This can be expensive but it was worth it to me. There are tons of diabetic and sugar free sweets out there, just gotta know where to look (I'll fill you in later on that too). Right now I'm not so extreme but I'm more careful. I'll have some but no a ton.

Now when we started the Insainty workout and the eating habits, I weighed 171. And before I got pregnant I weighed 145. I went from a size 16 to a size 14. My pregnant tummy is starting to get bigger, lots bigger (I'm in my last trimester now). I was happy, really happy to go from a BMI status of Overweight, to a Normal! Last year if you can believe it my BMI was in the obeese range. Last year around this time, I was around 185. I was not happy, that's for sure. I really got sick of feeling big and being out of energy. I know that if you want to get healthy, make a lifestyle change and not just go on a diet that you can do it! It's hard at first, but it gets easier and once you hit your goal, you can ease up on yourself a bit and not be so strict.

PRODUCTS I USED

I'm just going to go through ALL the products that we used and what we liked, what was okay, and where to get it (this is mostly just helpful if you live in the Logan area, but some of it you can find online).

We really liked a lot of things from the site netrition.com They have a lot of sugar-free and no or low carb products. We also really liked they're flat rate shipping, so a huge box of food was only $5. I also really liked that all the nutrition information was right there too to see online. They have lots of great stuff on that site. It's crazy actually what you can find and I was suprised what they could make sugar free.

We liked from netrition.com…

The carbolose flour. It was best in things that were sweet. When we used it in bread or savory things you could taste a sort of twangy taste. I guess the sweet kinda covered it up. Actually we have some of that to share, because were not going to use it for a few months while I'm pregnant. That way you can try and it and see if you like it.

Carbquick. Use it in place of Bisquick mix.

Big Train Low Carb Cookie Mix. I thought it was just okay, but I liked it better than the cookies I made with the carbolose flour.
They also have a Bit Train Low Carb peanut butter cookie mix that we ordered but I have yet to try it. We also ordered but haven't tried the Big Train pancake mix.

ATkins Endulge Candy Bars, Chocolate Coconut Bar. I'm a big sweets person so I ordered a lot of sweets. These tasted just like a Mounds candy bar.

Russell StoverSugar Free Snack Bars, Cinnamon Bun Granola. It was super good and sweet. My kids liked them.

Dreamfields Pasta. This site has all sorts of different types of pasta. And it doesn't have any weird tastes to it, Just like normal pasta in my opinion. You can also get Dreamfields Pasta at Smith's Marketplace in Logan.

Kay's Naturals Better Balance Protein Cereal, Honey Almond. I'm a big cereal eater too. We tried a few different brands off the site and this was my favorite.

La Nouba Low Carb Chocolate Hazelnut Spread (no sugar). I liked it. I have plans to try it on crepes.

Nutritious Living Hi-Lo Cereal. It was pretty good. I liked it better if I put fresh strawberries on it. I tried both flavors and I like the maple one better, but I didn't put strawberries on that one.

Tastykake Sensables Sugar Free Cream Filled Cup Cakes. These were incredable! We only tried the Chocolate cream filled cup cakes and they were so yummy, just like you were having a Hostess cupcake.
I want to get more of these.

Walden Farms sugar free and no carb Chocolate or STrawberry Syrup. We tried them both. I used them for topping low carb ice cream. They were both very sweet tasting and I liked the chocolate one better. WAlden Farms have a lot of things at Macey's I believe in the Pharmacy secion. I've also tried they're bbq sauce. Not bad but doesn't taste like normal bbq sauce.

LaNouba Low Carb Marshmallows. We haven't tried them yet, but I'm hoping they are good. They look good. I'm saving them for a special marshmallow occasion. Whatever that means.

Nabisco Sugar Free Oreo Cookies. This is like the best. They are real Oreo's but sugar free. Best invention ever.

We didn't like…

Dixie Diner Smaps Cereal. I didn't like it, just wasn't my thing. And there is pretty much a whole bag left and it's yours if you want to try it.

Maple Grove Farms Sugar Free Pancake and Waffle Mix. NG no good. they were gross.

Sensato High Fiber Hot Cereal. WAsn't my favorite. I can't rmeember why now I didn't like it. Actually I have a full bag of that too, I only tried it once. So that's yours too if you want it.

What we found around town…

Kellogg's Special K Protein Plus Cereal (blue box). At Walmart. Seemed to be the lowest carb ceral I could find in town.

Low carb tortiallas.

Polaner Sugar Free Preserves with Fiber. Cheaper I think that smuckers sugar free. You can also find Polaner online on netrition.com. But we found it in town at Walmart.

Walmart by our house (in the pharmacy secition) have a lot of diabetic products. I like the strawberry Glucerea cereal.

We found these great yougurts at Smith's marketplace called, Carbmaster. We really liked them and my favorite flavor was Strawberry Coloda. They only have like 3 g of sugar and 4 g of carbs. My husband liked them a lot too.

Smith's Marketplace also has ICE CREAM, called Breyers Carbsmart ice cream, that is sooooooo good. They also have vanilla and some ice cream bars. I loved the chocolate the best. It was creamy, no weird taste to it. Like I said, I love my sweets, and on top of the ice cream I'd put that no sugar no carb chocolate syurp on it. It was a yummy treat. I think I've seen it at another store too, can't think now where.

Hood Calorie Countdown 2% Reduced Fat Chocolate Milk. I don't know if something that would work for you, but it was soooo good, thick and chocolatey. It's at Walmart. I loved it and so did my kids. Even though we're not as serious on the no sugar and low carbs right now, we still get this.

I know that's a big list, sorry. I hope that if you are wanting to lose weight or get into better shape, that you wont give up, if you slip up one day, tomorrow is a new day and you can start again. Don't starve yourself and deprive yourself of a treat once and a while. I used the weekend to have some fun Saturday and Sunday.
After I have this baby, my plan is to start Insanity again. I actually can't wait to get back to seeing those numbers on the scale again and fitting into my pants again. It's possible! But may take some time. Good luck anyone who is trying to lose weight!

I can't end this post without saying thank you to Mark for helping me so much. He was very encouraging and helped keep track of me. It would have been really hard to lose the weight without him. Thanks Marky. 😉

It's been sooooo nice having a kitchen back. After the tile was sealed and dried we could move our appliances back in. It was pretty inconvienent not to have a dishwasher or washer and dryer right in our house. The kids thought it was fun to have the fridge in the garage, but it got pretty old. Luckily Mark's mom and dad live across the field so that was super nice for washing clothes and fixing meals. But you know, there's nothing like having it right there in your home (lazy).

There is still a few things that need to be done, crown molding, wainscotting, painting, and putting our downstairs bathroom back together (we decided to redo that as well).

One of the big things I was anxious to get done though was the pantry. Pretty much everything from the pantry and laundry room was siting on the counter and I didn't feel like I could really have my kitchen back till that was clear and all the pantry was all organized.

I had been looking on-line for ideas of how I wanted it to look and how I wanted to organize it. It first needed paint. It was cheapest and easiest to just use the leftover yellow paint that we had used for the kitchen. I thought it would be fun and bright and kinda go with the retro theme I wanted in there. I hurried and painted the ceiling and walls before the washer and dryer came back in. I didn't want the whole room to be just "boring" wall color and trim color like the kitchen, so I looked online for inspiration. I saw a few people use wallpaper or vinyl cut outs to dress up the back of the pantry shelves. It looked cute, but not quick or cheap enough for me. I figured stripes would work instead, so I just used a picture frame I had laying around to measure with really quick, and taped off the area and made some yellow and white stripes in the back of the pantry shelves. I think it turned out fun!

I then wanted to find some fun baskets and containers organize and store my food storage items on the shelves. After going to four different stores, my Mom and I found some great deals at Hobby Lobby. We found some really fun black baskets and a red tall basket. I am also trying to organize and group similar items together on the shelves to make it more functional (and attractive!). There are still a few things I want to do in there before it's finished. A rug for my tootsies, a retro light fixture, and maybe a few lazy susan's for the corner shelves so I can really utilize the space.

My counter is staring to become clear, we got the kitchen table and chairs in tonight and it was sooo nice to have dinner together while sitting at the table. I love that! We decided with all this new room (since we are not bringing the arcades back into the kitchen) that we should just keep the leaf in the table all the time. Tonight at dinner Welly said "We need 2 more people to eat here…".

We have also been trying to finish up the backsplash a little with new switch plates. We aren't totally sure yet whether we like these one, so we only put a few on for now, but I think we will probably just get the rest and put them on, the plates are growing on me, what do you think?

We also got a new rug! I thought for sure it would be hard to find one we liked, or it would be too much money. But we found one (actually we found a couple we liked at the Home Depot in their "discount" pile). We had a hard time choosing from the large stack of rugs they had because there were so many good ones, but we (of course) decided on the one at the bottom of the pile (sorry Home Depot girl).

I'm liking how it's all coming together. It's nice to have things (kinda) back where they need to be and things are slowly getting back to normal. We're hoping to get the wainscoting, trim, and the crown molding in soon. We still don't have a downstairs bathroom, and we need to paint the living room. Whew! When it's all done and finished we'll have to have everyone over to see it!