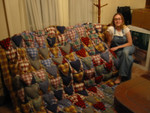 The Puffy Heart Quilt is the biggest quilt I've ever made. It was a present for Mark for Valentines Day in 2000 and it took way longer to make than I expected.
I started by cutting out the squares of flannel. Then I cut out the hearts and sewed them to the squares leaving an opening to stuff them will poly-fill to make the "puff". After sewing those shut I sewed all the squares together.
I then took it to the chapel cultural hall where there was plenty of room to tie it. I decided to tie it because there is no way it could have fit in my little brother sewing machine. The batting of the quilt was extra loft which translates to really warm and puffy. I backed it with more flannel, then tied it with whilte yarn. It took quite some time to tie it.
I took it home to sew up the border. The quilt turned out really warm and heavy. Even on the coldest day its too warm. But it's great to lay on top of. Mark and I used it as a make shift couch when we were first married and didn't have a couch yet. It is also great to sleep on because its very puffy. The quilt is a king size quilt and very soft because of the flannel.