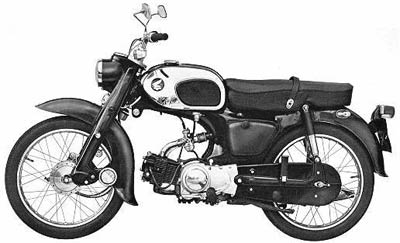 06/27/07:
We recently purchased a new engine for our 1965 C200. These bikes originally had a 90cc engine on them, but when we bought it, the previous owner had broken the engine casing.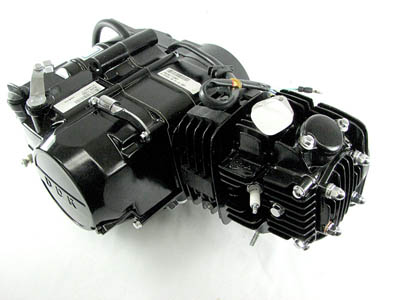 (This isn't an actual picture of our engine, but very similar. We bought our engine on ebay, but there are better places to find these online, I'll list a few below when we're all done)
We also own a 1981 Honda C70 Passport (very fun scooter). The engines on these bikes are very similar, except the C70 engine is only 70cc. We decided to swap the engines anyway (the C200 is just too cool looking not to be working

).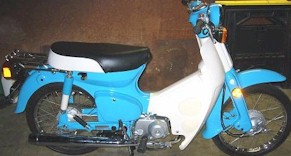 (This is the Honda C70 we have, really fun scooter, but only a 70cc engine. We have since put the engine back on this scooter and it is back up and running)
We did that original engine swap a few years ago, and as I remember, the hardest part was the wiring (most of the mounting holes and odds and ends all fit on the new bike). Gary (the genius) completely re-wired the whole bike to work with the 70cc engine, and it ran great.
Sadly, the 70cc engine was just not enough for the bike. It could only get a guy my size up to 35MPH (and that was down a slight incline with the wind behind me). The road into town from our condo is 45MPH, so I'm sure I made quite a few drivers behind me unhappy as I would drive it into town.
The new engine we bought is a 140cc Lifan engine (Lifan is the brand, they are Honda copy cats that are supposed to be fairly easy to bolt on to old honda bikes having the same mounting holes and many interchangeable parts etc…)
We are almost finished with this project (just need to finish installing the muffler and then figure out the electrical). Once finished, I will put all of the photos and information about the upgrade here.
NOTES:
Used 1981 C70 Intake Manifold (it's curved straight back so we could hook up the original air filter, the one that came with the engine curved off to the side and made it too dificult to use the original air filter).
Used 1981 C70 Kick Start (it's bent out and fits around muffler better)
Had to chop the original foot pegs and weld a small piece on to lengthen it so they would fit on the new wider engine.
10/2/07:
So we tried to get the engine wiring all figured out. We contacted the people who sold the engine to us, and they gave us some pretty worthless documentation on wiring for the engine (the company has since stopped selling these engines, we really should have bought the engine through someone else, many online retailers of these engines will provide support as long as you buy from them etc…), I joined an online group dedicated to using these honda clone engines, they were helpful and had some great tips and useful info, and one user in particular even drew out a wiring diagram for a honda C200 conversion, and we also found another website that sells these engines which had some pretty thourough wiring diagrams and other techinal info available (makes me wish I had known about these guys before I bought our engine on ebay, oh well, lesson learned).
Unfortunately, no ammount of accurate and helpful wiring diagrams could fix the fact the engine was actually broken (Gary says he thinks it was the alternator, we did everything on our side we were comfortable doing on a new engine, and finally decided any more repairs were ridiculous since it was a brand new engine).
I sent the broken engine back and requested a replacement. We made a little mark on the underside of the broken engine near the serial number tag (just so we could tell if they sent us back the same broken engine) and then crossed our fingers and hoped for the best.
We finally received the new engine this past weekend. We did check and it was a brand new engine (they didn't send back the same one). We got it out of the box, unwrapped, and hooked up to the bike pretty quick (most of the wiring was done and just waiting to be plugged in from the broken engine wiring attempts, so it wasn't too bad).
We kicked the engine over, and tested the wiring and it all works (yay!). We didn't go any farther than that though (we still have to finish the wiring and tighten down the bolts and get the muffler, air filter, and carb attached correctly.
We actually have a second bike (same model, a C200) that we picked up a little while ago, and so once we verified that this engine worked, we ordered a new engine for it as well. Once it gets here, we'll test it on this frame (as the new bike is in a little rougher shape, and the wiring is pretty well in place on this frame, so we should be able to hook it up really quick and make sure the engine works fast on this frame, I guess we're a little paranoid since our first engine didn't work).
This is going to be great once it's all done, but it's too bad that it's almost winter (will have to wait till spring to really test it out once we get it all going). I will update this page when the new engine comes.
03/10/08:
We got the new engine a while back, and it ended up working fine too. Strange that we just happened to get a bad engine on our first try.
We have finally started finishing these bikes up (it's starting to get warmer here, and we want to drive these this spring/summer/fall). We have everything pretty much finished up on the wiring now (still need to get a few small 12v bulbs for the speedometer, we actually ordered some, but the bulb end was too bulbous, and didn't fit, so we left the 6 volt bulbs in place there for now, and I'm sure they'll blow once we really run the engine for a bit).
Previously we talked about using the manifold from the c70 as it was a better angle for the carb, but we found a much better solution to that, we just bought a manifold adapter kit from Dr. ATV (they sell tons of stuff we have used for this conversion, we literally could not have done this conversion without them, great resource and they sell the engines as well).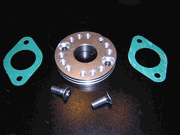 (This is what the adapter looks like, it basically just allows you to shoot the manifold any direction off of the engine. The stock direction was off to the side, but trying to get the air filter tube to work on that tight of a bend just wasn't possible, so without this adapter we would have had to use one of those mini air filters that bolt onto the carb, I don't like the look of those, especially considering the filter is nice and hidden when using the one on the bike, so it was a good investment).


(This is a pic of it actually attached to the engine head and the manifold attached to it. Just to give you a better idea how it works)
Once we had the adapter installed and the manifold/carb facing in the right direction, we had to figure out how to hook the carb up to the hole on the frame that leads to the air filter. We went to Lowes and looked through all of their tubing, but couldn't find anything that would work. We finally found some appliance hose (I beleive it's for washers) that was the perfect diameter, and was corregated so it was flexible enough to fit the slight bend. We just used standard metal straps found at any hardware store to tighten the tube on each end of the carb and air filter hole. I will grab a picture of it when I get a chance and post it here so you can better see what I'm talking about.
We also found that we'll need to get a different kick starter lever. The one that comes with the engine is too straight up and down, no bend really whatsoever, and it really needs a bit of a bend to not conflict with the muffler. The one on the C70 (mentioned above) will probably work, so I'll probably rob that one and then order a new one for it, just so I can get the black scooter running. They may just have a generic one at the motorcycle shop, I'll have to look, but I'm sure it won't be too hard to track one down.
We're really close to getting this done now, and I'm really excited for the weather to improve so we can start driving this scooter. I'll keep this place updated when we make any more progress.