Wednesday I went in for my plastic surgery. All went well, and I should be ready to go in on Monday to get my neck bolts tightened. Even though I look a bit like Frankenstein right now, I'm still very happy with how the surgery went.
After considering it for some time, I decided to go ahead and remove six moles (fairly large ones) on my face. I made a post a while back about it (check it out if you missed it, there you can see before pictures). I went to Dr. Isom, a plastic surgeon in town. I went with him, because well, I wanted a skilled hand working on my face.
Mark, my cute hubby, went with me to hold my hand and be a general support. I'm sure glad he came, cause I had the most painful experience. After marking off which ones I wanted removed, he numbed them up. It might have been okay if it was just one, but to have six poked at (in relatively sensitive areas) made the numbing process an un-fun one. I teared up and squeezed Mark's hand as hard as I could.
When they returned 10 minutes later, I was ready to go. Dr. Isom suited up, put sterilized sheets and gauze on my face so only a small part of my face was visable.
Mark, by my side, watched as Dr. Isom made eye shaped cuts (this helps reduce scaring) around my moles. By the time he was on the third one, Mark said later that he started realizing his face was very cold. After the nurse asked him for a third time if he wanted a chair, he finally sat down next to me. A few more minutes passed, and Mark announced that he was VERY lightheaded (which some of you might be after you look at that picture). The nurse told him to move back, and put his head between his knees.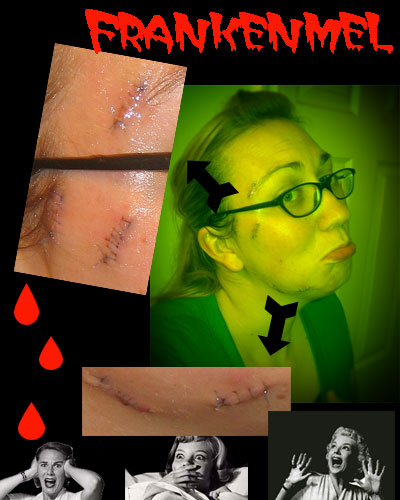 The nurse got Mark a sucker and some water. He soon felt better and the nurse also felt better, for she narrowly escaped picking 300lbs. up off the floor. Just kidding, she didn't sigh, but I'm sure she was still glad. I love my Marky, he was such a good husband to stay with me and hold my hand even though he doesn't do too well with that sort of thing. (Oh, and Mark made me promise to say "Passed Out" not "Fainted")
Mark stayed on the other side of the room the rest of the time, which I was totally fine with, cause I was so numb that I couldn't feel a thing, with the exception of some tugging as he stitched me up. I'm going back on Monday to get the blue larger stitches out. The inner stitches will dissolve on their own in about two months. He said it can take up to a year for the scars to really blend in with the face, for it to all smooth out, and to look right. That was fine with me, I can wait.
I was really happy with Dr. Isom and his whole staff, they were so nice. I thought Dr. Isom did a great job and I would totally go back to him or refer my friends and family to him.
Sorry for such a gruesome picture.