We have an family goal to be more healthy. For family home evening, we talked about why the Lord wants us to keep our bodies healthy. What good foods we should eat and what we shouldn't eat. We talked about exercise and keeping our bodies healthy that way. We sat down with the kids and thought of a few activities we could do as a family in addition to the ones that Dad thought of. After we accomplish all the activities, you can earn a badge. I'll have to post later about our family badges. This particular badge were calling the Family Fitness badge. This is the design that Mark did, now I just need to make it! Pictures of that to come later. P.S. You can click on any image and it will load bigger.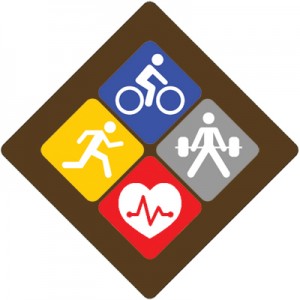 Here is our chart that is on the fridge to help us keep track of what we need to do.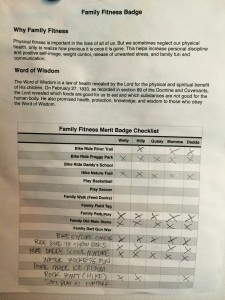 We've gone on multiple bike rides so far, but recently we went for a fun hike/explore Daddy's school. Mark goes to USU and the kids love going up on campus and seeing where Dad goes to school. This is a great free thing anyone can do, you don't have to go to USU to do this. Just go in and out of the buildings and see what you can find or just walk around outside, there are many sculptures and other things to see at USU.
Here are a few pictures from our adventure…