Mark's pride was really hurt when he stepped right through our bathroom ceiling! While trying to install a CAT5 in our house, he made a misstep and made a large hole in the ceiling. We kinda tried to patch it up but it's more like a band aid over a gash! (ewe)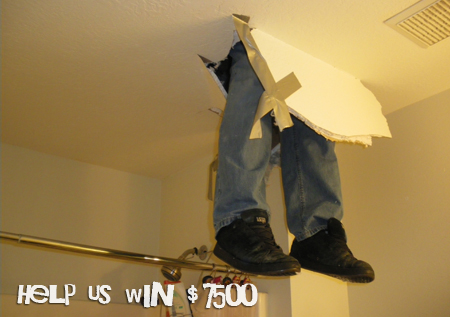 We also, okay it was me, left the sink running and it overflowed and the water damaged the floor underneath the linoluem making a bubble in the middle of the floor! The shower head leaks, when the shower is on it "screams" at you….to name a few of the things we want to fix.
To make a long story short we need a new bathroom so when we heard about Zions Bank's Home Improvement Challenge we entered a photo and made it to the top 10! So excited!
The winner will get $7500 towards their renovations.
The photo with the most votes wins! So we need all the help we can get.
I actually really hate begging friends on facebook to do this. I hate to be a bug, but it really would help.
You can vote once a day, everyday until May 24th.
Just click this link below and it will take you where you need to go.
and then once there, click the text link "like this" to vote for our photo! Because Zions is doing their contest through their Facebook page sometimes it's confusing when you see their "like" link, that likes their Zions Bank page, but just remember to click the link by our 'feet dangling' picture and you'll be good to go!
We really appreciate everyone's help and as a little incentive we will have a big party/bbq at our house if we win! Everyone is invited! Free Food!