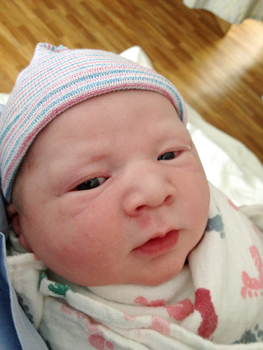 Magnus Scott Bannatyne was born February 6, 2012 at 10:24 a.m. We knew that we would be induced a week early because our other two boys were so big. The night before the induction date we got a unexpected late night call telling us that Dr. Horsley wanted us to come earlier. Normally you call Labor and Delievery at 6 a.m. the morning of the induction to see when they could get you in. But instead of calling he just wanted us to come in at 5 a.m. Wow! It was early but we didn't mind because we were VERY excited to get this baby here. I slept for about 2 or 3 hours that night. I was very excited and couldn't sleep but I also wanted to make sure and get up and take a shower before we went in.
Mammy came over at o'dark thirty to sleep on the couch and take care of the kids. And we were on our way! I was anxious but not as much as I was with Hilyard and Wellington. Mark teased and joked around with me to lighten the mood (who invited him anyway?

)
They started me on the potossin about 5:40 a.m. I was already dilated to a 4 then. Mark and I spent the next couple of hours talking, playing on our iphones. Mark read and I watched shows.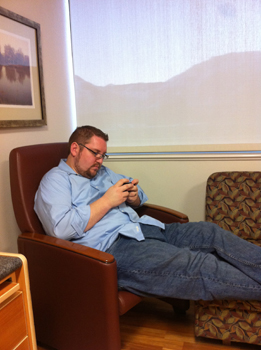 They checked on me periodically. At 9 a.m. they broke my water then my contractions got really bad. I knew it was time to get an epidural after that because I dreaded each and every contraction. I was still a 4 when I had the epidural but for the next hour after the epidural I was feeling happier and even feel asleep for a few minutes.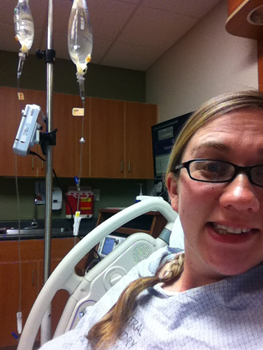 It was a good thing I got some rest too because the next thing I knew she checked me and I was a 10 and she said it was time to have a baby. I was shocked that I went from a 4 to a 10 in an hour. I couldn't believe that it was time to have a baby! As they scrambled around setting up I jokingly said "I'm not ready!" Mark stood up by me. He was very excited and facebooked that it was time to push!
Everything was ready and everyone was in place. Dr. Horsley came in and suited up. I pushed once and he said I was a great pusher. I pushed one or two more times and the Dr. and Mark said they could see hair. The next push Dr. Horsley said he had chubby cheeks. They kept telling me I was doing really good and I told them I didn't feel like I was doing anything! The Dr. jokingly said, "Oh, your doing something!" He said it was a good thing I had an epidural or else I'd be saying "Bleep, Bleep, Dr. Horsley" (it was funny because he is a Stake President) he made me laugh and then he said I could just laugh him out if I wanted. I pushed probably three or four more times and he was out. It's always an amazing feeling once you finally see your baby! The Dr. asked me how much I thought he weighed. I said "maybe 8 something"? The Dr. said "oh, I think he's a lot bigger than that!" We were all shocked that our week early baby was 9 lbs. 7 oz. and 20 inches long! Crazy! I was so surprised.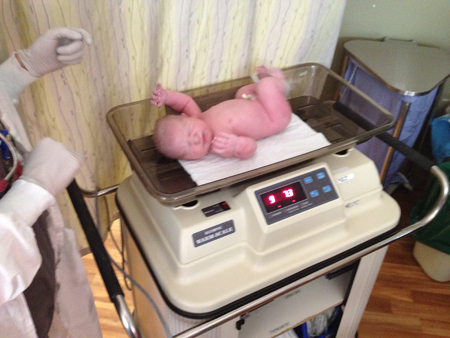 He was perfect. He was crying loud while Dr. Horsley stitched me up. After Magnus was all cleaned up and wrapped in a blanket Mark brought him over to me so I could see him. He was so beautiful! I couldn't hold him right away because Dr. Horsley was still working on me plus I was shaking so bad I was afraid I was too weak and shakey to hold him.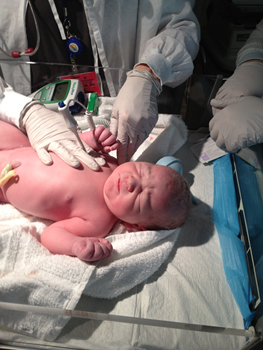 We were so happy he was here! He was perfect! We spent the rest of the day visiting with family. Carrie, my mom and dad came. So did Mark's sister Heidi and Mammy, who brought the boys to meet their new brother. They both held and loved their new brother. They sat with me on my hospital bed, ate snacks and watched cartoons.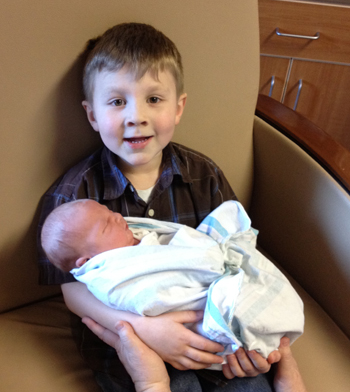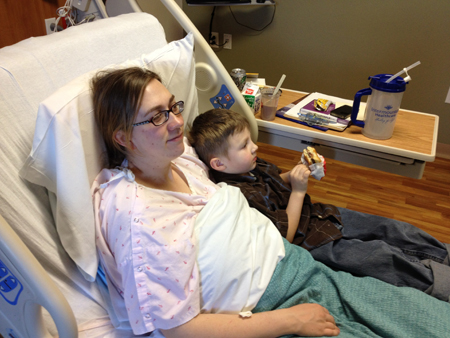 I was so exhausted and wanted to be asleep. The first night wasn't too bad, just normal sleeplessness. After Mark got a few hours of sleep I woke him up and traded with him. Mark also changed his bum for the first few times. What a great Daddy!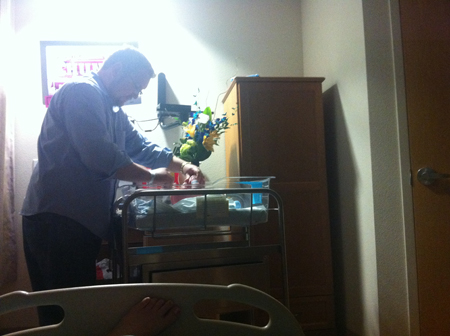 At least I had room service breakfast to look forward to. It took us a while to get checked out of the hospital. Magnus was cleared to go by 10 a.m. We were told Dr. Horsley didn't do his rounds till lunch time. So we decided to go ahead and order lunch while we were waiting. After lunch, they said it would be longer. We were very anxious to leave so finally someone called Dr. Horsley for us, it was a good thing too because he said he wasn't coming in till 5 p.m. that day. He is awesome and he released us over the phone.
We feel so blessed that Magnus is here and he's healthy. He is a very easy baby so far. He wants to eat like all the time! He's already waking up only once maybe twice a night. He's strong, loves being cuddled, and is patient with his brothers holding him.