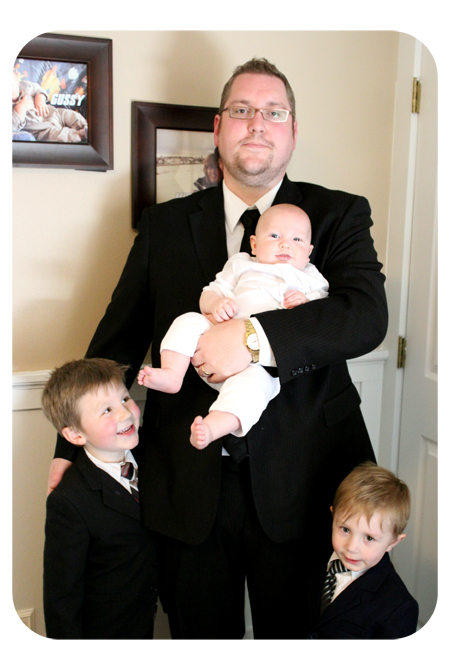 What a great day! We were very blessed to have family from out of town be there as well as some good friends. Mark gave a great blessing, Gus was a super cutie baby, barely fitting in his outfit. I got up and bore my testimony. The rest of the meeting was very spiritual. Afterwards we chatted with family and friends, then headed home to hurry and get ready for dinner.
Dinner was tastey, the kids ran around and we all got a chance to talk.
All the men who were in the circle are all great guys and great examples of spiritual men. It was such a blessing to have family and friends there in the circle. In attendance were both mine and Mark's Dad's, brother's Troy, Ryan and Gary, friends Tommy Davis, Mike Nielsen, Jeremy Young (all guys that Mark served with in the Elders Quorum) and our very faithful ex-home teacher Tim Lloyd.
We love our little Gus Gus and we're so happy to have in our family. He fits in perfectly to our family, such an easy baby, so smiley and happy. He loves his brothers and looks at them adoringly even if their rough housing with him. I love all my boys so much! Look how handsome they all are in their suits! Wow, what a lucky gal I am to have all boys!