It seems crazy to me that Wellington is 5 now. Where has the time gone?
Welly had requested a pirate party this year and Saturday, a few days before his actual birthday, seemed like a convient day for his cousins and friends to come over. I love throwing parties, I have fun getting decorations, planning food, games and party favors all centered around a theme. I got a lot of good ideas from Mark's cousin Kezia including a freebie of some cool pirate invitations (Thanks K!). Sister-in-law Heidi also had a ton of piratey stuff I could borrow (Thanks too!) I found some great stuff around town and by Friday night, the night before the party, I had the house decorated and everything ready to go.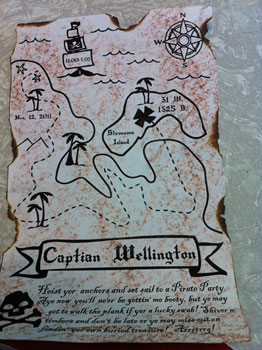 In the middle of the night Welly woke up not feeling good and threw up a little. When Welly throws up its hard to tell sometimes if its him being sick or if it's his incredibly sensitive gag reflex. In the morning he threw up again, but this time it was by the kitchen garbage which was full, and again it was hard to tell if he was sick or if it was because our garbage was stinky (he is way sensitive to smells too).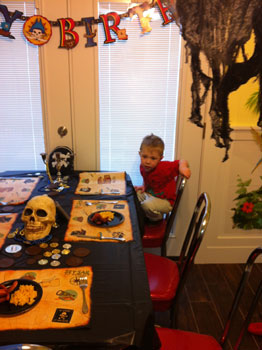 Mark and I decided we better do the right thing and call the parents and let them know he might be sick. I felt bad and wasn't sure how to break it to Welly that he wasn't having a party. He was so excited and psyched up for it. In the morning, he kept asking me when his friends were coming over. We decided that we'd go ahead and have his party with just us.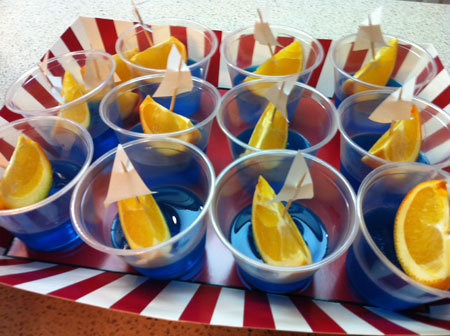 We had invited two cousins to the party, Mark's sister's boys, Holden and Gray. After Mark talked to Heidi on the phone to let her know Welly might be sick, she said it was fine if they came and could her two other kids come too. My Mom also came, which it was way nice of her to come.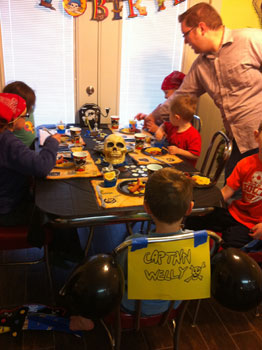 It was fun and worked out. Welly had fun with his cousins. We made eye patches and spy glasses. They decorated cardboard swords. Got tattos. They played in the cardboard boat I made out of a refrigerator box. We turned on Sponge Bob too for a little while while they were playing.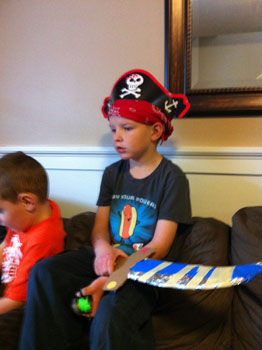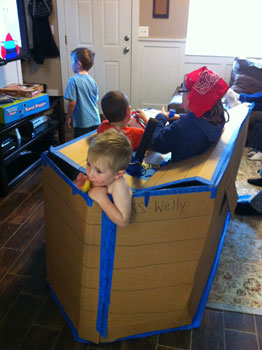 We had a light lunch of Octopus hot dogs on a sea of macaroni and cheese. We had sea blue drink (kool-aid) and Blue jello cups with orange wedge boats. The kids all seemed to like it. Then it was back to more sword fighting.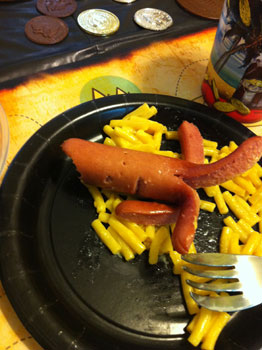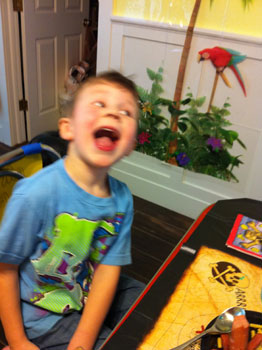 At this point Welly started to cough here and there. Making me a little worried. We had presents next. Each of his cousins gave him a present (way nice Heidi and Gary). He got root beer, a personalized licence plate for his bike, a mario guy, a Tin Tin book. From us he got a sand digger, a bunch of wooden 3D puzzle things, walkie talkies, and a few other little things. Grandma gave him a cool taradactle guy that shoots things and a wooden kit to build a barn. I think he really liked all his presents.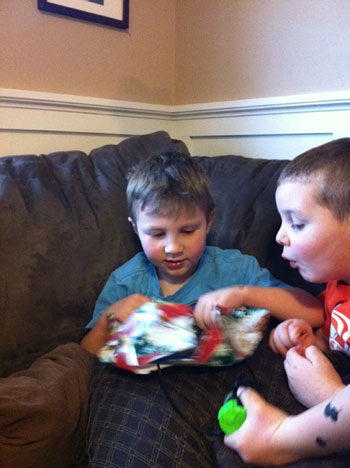 We then had cake. We had all the kids sit back at the table so that we could sing to Welly and he could blow out his candles at the table. Well when he saw the cake, he started to gag. And gag a lot. I had him go outside to get some fresh air. Mark had already lit the candles and then had to blow them out because I sent him outside. Welly ended up throwing up outside (lovely). We all waited for him to calm down, he came back in and sat on the edge of the couch near the door and we decided to just bring him one little piece of cake on a plate and have him blow out his candles from that. We sang to him and he blew the candles out. He was fine after that, but didn't eat any birthday cake till later that night.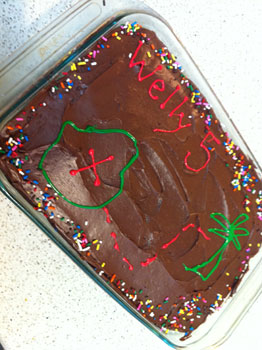 After all that fun, we had a pirate treasure hunt where the kids all followed clues to a treasure map, then they followed the treasure map to a suitcase full of treats and prizes.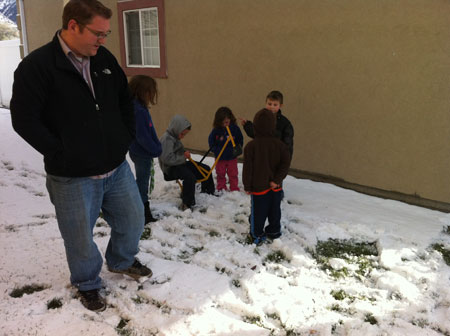 The kids trying out one of Welly's presents. A sand digger, which because of the season, it's a snow digger.
Welly had a good birthday party and it was a good thing we had all that fun on that Saturday because he soon got a lot sicker. Late Saturday night, early Sunday morning, he woke up gasping for air. Welly gets croup about once a year, although I was hoping he would have grown out of it by now. We all stayed home Sunday since I wasn't feeling great anyway.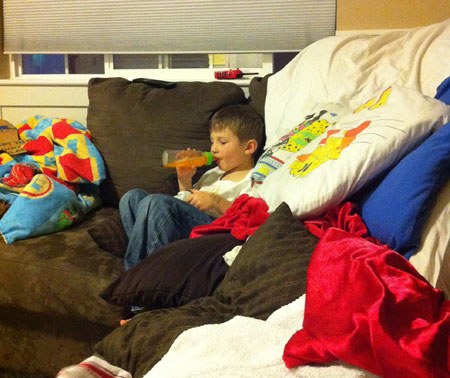 Sunday night Hilyard started not to feel good and in the middle of the night he started the same thing. His croup seemed to be worse than Welly's or maybe it's because he's littler and can't really communicate very well and that made it seems scarier. So for the next three nights Mark and I took turns sleeping on the couch with the boys with the window open so that they could breathe better. It was pretty unfun, but I'm sure it was really unfun for Mark who had to go to work in the morning.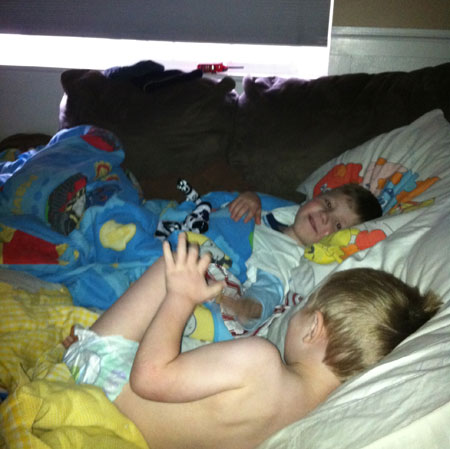 If your going to be sick, it's funner to be sick with your brother. Here they are kicking each other and laughing.
It was so cold!!!! and uncomfortable for us all. There was one night Hilyard was really bad. I couldn't get him to breathe very well even with the window wide open and us right by it. Mark took him outside a few times to walk around. That night Hilyard would get about 30 minutes of sleep at a time then wake up. After that really bad night I took the boys to the doctor. By that time Welly had lost his barky, tight cough and moved to a more wet, loose cough. It seemed like Welly was on the mend. Hilyard was prescribed steriods and they helped so much. They were in pill form and we ground them up and hid them in some ice cream. It worked great and he ate it all up. We tried the same trick with Welly's over the counter Little Colds medicine, but he was wise to us.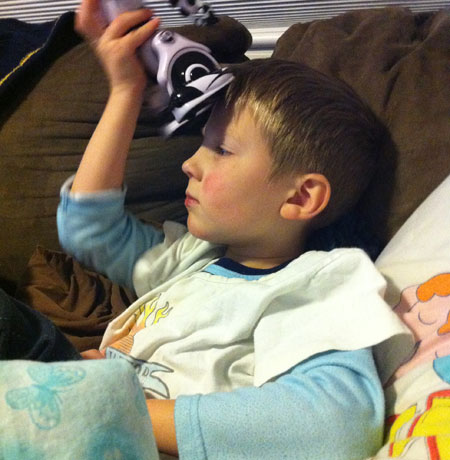 The boys have been getting better. They still both cough a lot (that is supposed to last for another week) and we're still trying to avoid people for the most part, except for spending 4 days in the house and not going anywhere is driving me and the boys crazy. I've been feeling better during the day, but at night and in the morning I'm still all stuffed up.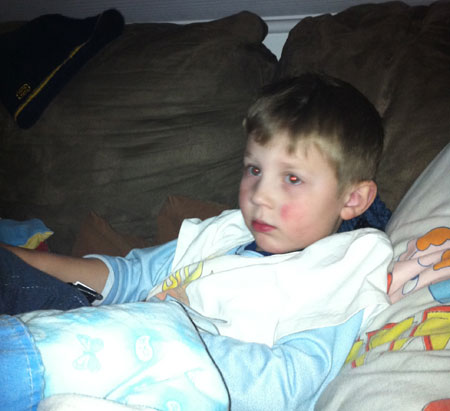 He looks so sad here.
On the 14th, Welly's birthday we spend it mostly on the couch watching shows. We did puzzles and played legos. I felt bad Welly was sick on his birthday and I tried to make it fun and do all the things Welly wanted to do (legos).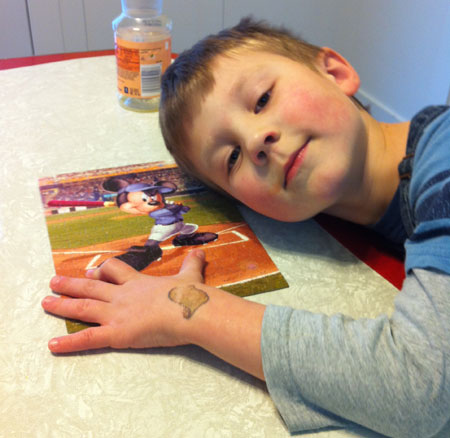 Such a cute picture!
I sure love that kid. He's my buddy and we're sure lucky to have him in our family. Happy Sick Birthday Welly!