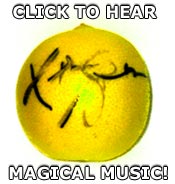 Stage smoke rolling and lights flashing, the "Theatre of Illusion" show started. Magicians Kevin and Cindy Spencer lit up the stage with their personalities and their obvious love for what they do. We enjoyed Kevin's jokes, and Cindy's smile and charm. Together they were really very "cute".
The show was upbeat, with plenty of "illusions" to keep you guessing. I even had trouble getting to sleep that night with thoughts of, "How did Cindy fit into such a small box?" or "How did he get that dollar bill in the lemon?" (Reality or Illusion? "See I was listening Kevin") There were plenty of impressive "illusions". It was fun to see a Houdini escape from a water filled container, and Kevin crawling through a fast spinning industrial fan.
There was plenty of audience participation, but not from me. I had promised Mark, my husband, before the show that I would raise my hand when a volunteer was needed. I chickened out when the time came, and dashed his dreams of me ever being on stage. He teased me that he was disappointed, but he soon forgot when he caught a lemon as part of a trick. We kept the lemon, and after the show I fought my way through the excited 8 year olds to get Kevin Spencer to sign it.
Overall we had a great time and we were totally entertained. We had visited their website before we went to the show, and they lived up to everything in it. We were really glad that a show of this caliber came to our little town of Logan, Utah, and we hope that more shows like this are to come. We recommend that if the Spencer's Theatre of Illusion come to your town, go! Check out www.spencersmagic.com or check out their on-the-road BLOG