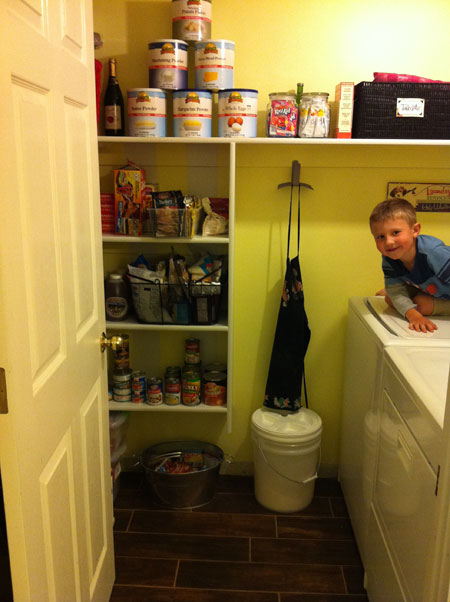 It's been sooooo nice having a kitchen back. After the tile was sealed and dried we could move our appliances back in. It was pretty inconvienent not to have a dishwasher or washer and dryer right in our house. The kids thought it was fun to have the fridge in the garage, but it got pretty old. Luckily Mark's mom and dad live across the field so that was super nice for washing clothes and fixing meals. But you know, there's nothing like having it right there in your home (lazy).
There is still a few things that need to be done, crown molding, wainscotting, painting, and putting our downstairs bathroom back together (we decided to redo that as well).
One of the big things I was anxious to get done though was the pantry. Pretty much everything from the pantry and laundry room was siting on the counter and I didn't feel like I could really have my kitchen back till that was clear and all the pantry was all organized.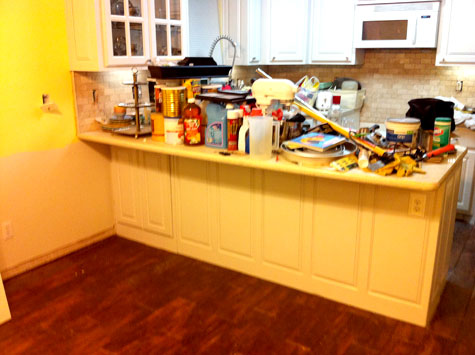 I had been looking on-line for ideas of how I wanted it to look and how I wanted to organize it. It first needed paint. It was cheapest and easiest to just use the leftover yellow paint that we had used for the kitchen. I thought it would be fun and bright and kinda go with the retro theme I wanted in there. I hurried and painted the ceiling and walls before the washer and dryer came back in. I didn't want the whole room to be just "boring" wall color and trim color like the kitchen, so I looked online for inspiration. I saw a few people use wallpaper or vinyl cut outs to dress up the back of the pantry shelves. It looked cute, but not quick or cheap enough for me. I figured stripes would work instead, so I just used a picture frame I had laying around to measure with really quick, and taped off the area and made some yellow and white stripes in the back of the pantry shelves. I think it turned out fun!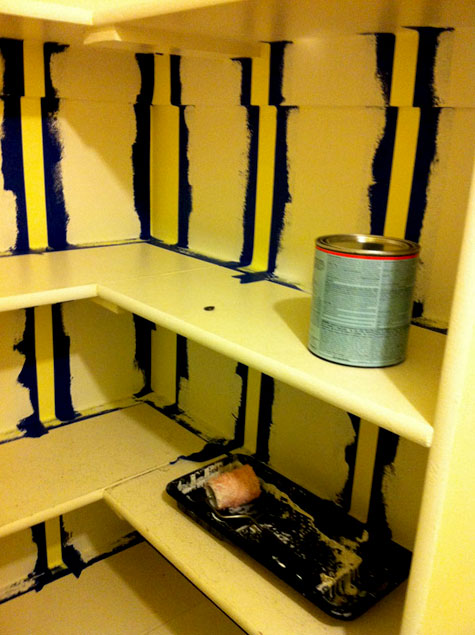 I then wanted to find some fun baskets and containers organize and store my food storage items on the shelves. After going to four different stores, my Mom and I found some great deals at Hobby Lobby. We found some really fun black baskets and a red tall basket. I am also trying to organize and group similar items together on the shelves to make it more functional (and attractive!). There are still a few things I want to do in there before it's finished. A rug for my tootsies, a retro light fixture, and maybe a few lazy susan's for the corner shelves so I can really utilize the space.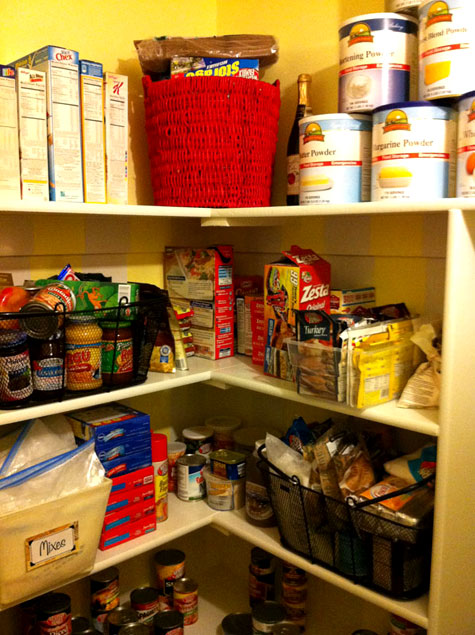 My counter is staring to become clear, we got the kitchen table and chairs in tonight and it was sooo nice to have dinner together while sitting at the table. I love that! We decided with all this new room (since we are not bringing the arcades back into the kitchen) that we should just keep the leaf in the table all the time. Tonight at dinner Welly said "We need 2 more people to eat here…".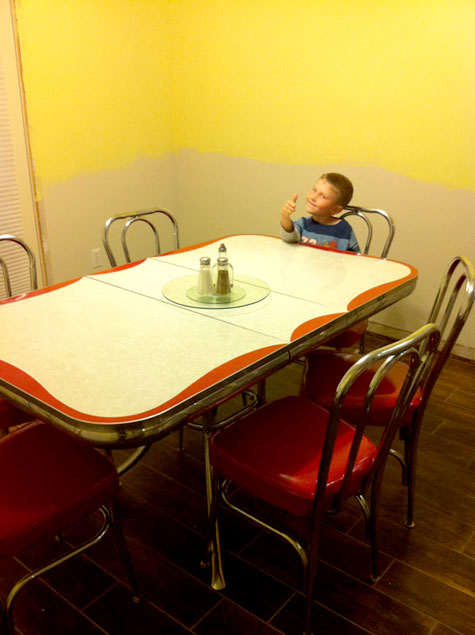 We have also been trying to finish up the backsplash a little with new switch plates. We aren't totally sure yet whether we like these one, so we only put a few on for now, but I think we will probably just get the rest and put them on, the plates are growing on me, what do you think?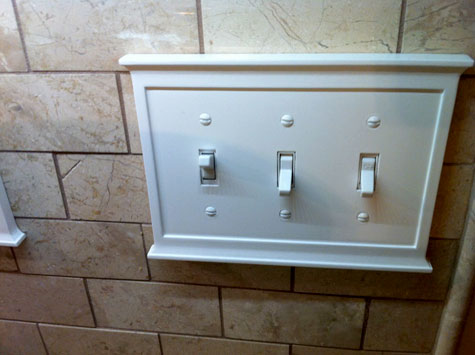 We also got a new rug! I thought for sure it would be hard to find one we liked, or it would be too much money. But we found one (actually we found a couple we liked at the Home Depot in their "discount" pile). We had a hard time choosing from the large stack of rugs they had because there were so many good ones, but we (of course) decided on the one at the bottom of the pile (sorry Home Depot girl).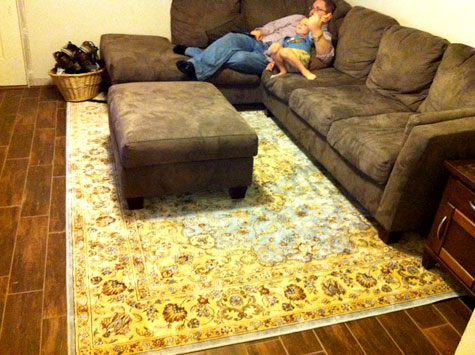 I'm liking how it's all coming together. It's nice to have things (kinda) back where they need to be and things are slowly getting back to normal. We're hoping to get the wainscoting, trim, and the crown molding in soon. We still don't have a downstairs bathroom, and we need to paint the living room. Whew! When it's all done and finished we'll have to have everyone over to see it!