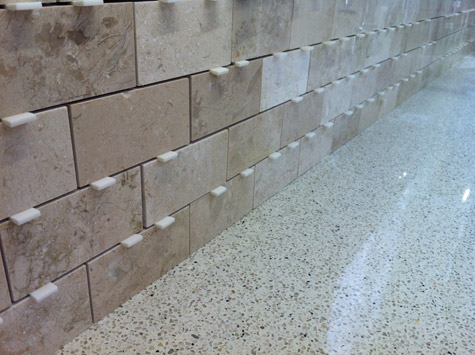 Last night we started on the back splash. As mentioned in the earlier post, we originally had a much lighter back splash picked out, but once we saw the counter top installed, had to choose a different back splash that would match the color of the counter better.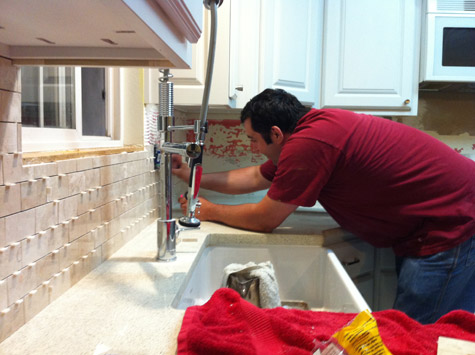 Our neighbor Travis said he would help us install the back splash (he has all of the tools and is a pro, so this was a HUGE help). Gary also came by and helped a ton with the project, making it go really smoothly and quickly (well, our neighbors may want to argue about the "quick" part, since we were make cuts with the loud saw until ~11:00 at night

).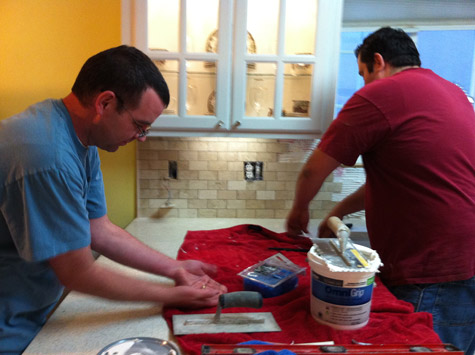 We started on one end, and Travis quickly figured out all of the complicated cuts we needed to make to fit around the various switches and plugs on the back splash wall. They even trusted Marky to make a few of the cuts, but that wasn't always the best choice on the more intricate cuts (he can cut the straight lines like a pro though 😉 ).
We bought a bag of 500 tile wedges, and Gary placed almost every one in the tiles (thanks Gary, super nice of you to come help). Now we just wait for it to really set, and then we can grout it. Travis says the grouting should go quickly, so that will be nice.
Travis's wife Marie even brought over some killer home made brownies (from scratch). How incredible is that, she lends us her husband AND brings over awesome brownies, thanks Marie you rock!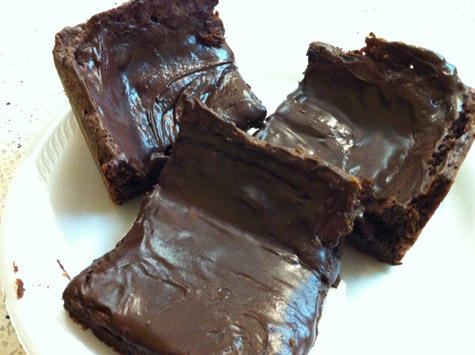 We really like the look of the back splash, and it really makes a huge difference to the kitchen. Can't wait to finish up the flooring, crown molding, wainscoting, and door trim (seems like the end is in sight!). Thanks again Travis and Gary, we couldn't have done it without you!