Cabinets are all done, shelves in and hardware on! Thanks Brady! Took a few days longer than expected but the counter tops are finally in! I love them. Valley View Granite did a great job and we were very happy with their install. At first I thought they were the wrong shade (creamier than I remember)… I liked them, but the back splash I had already picked out didn't go with the counter once installed. It was no big deal, I just went to Lowe's and picked out a few other choices of tile for the back splash that I thought would go better with the counter top.
One thing I really love about the new counters is the bar. They put a bit of a bow on that side instead of just going straight across. Since the cabinets are a bit longer too, the whole counter seems so much larger now. I don't have a good picture of it yet, but will try to snap one soon. Also, to keep it looking like there is more space, we plan to not store out slush machine on the counter. We may get a cart for it, or we may just store it in the garage and only bring it out when we use it (that would be too sensible). I'd like to make sure we don't clutter the counters too much (take a look at the before picture on the first post to see what I mean

).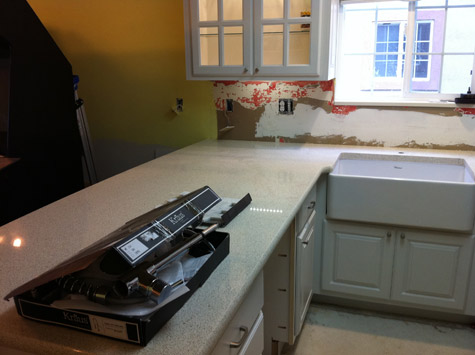 (The under cabinet lighting is highlighting our awesome torn up backsplash, can't wait to get the new backsplash installed, should make a big difference. You can also see some of the new paint on the walls there and the in cabinet lighting on the new larger window cabinet.)
To pick the new backsplash, I got a couple different choices from lowes and then placed them up on the backsplash area and had everyone that came over vote on which one they liked. It was pretty much unanimous, it's going to be a beige-y marble subway tile. We plan on starting the install tonight, I can't wait!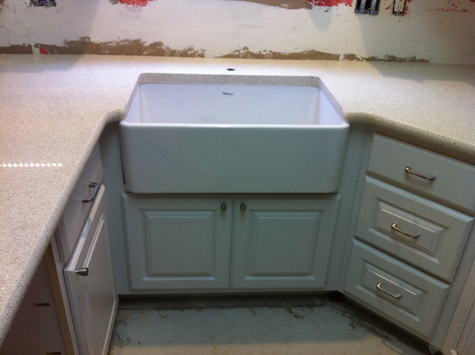 (Love the seamless farmhouse sink!)
Gary and Mark got the faucet in. It took some doing they said, but it's in and working great. I love it and am glad we got it.
We were so excited to give the boys sink tubbies. They loved it and every time I'm doing dishes, Hilly starts taking off his clothes thinking its time for a tubby.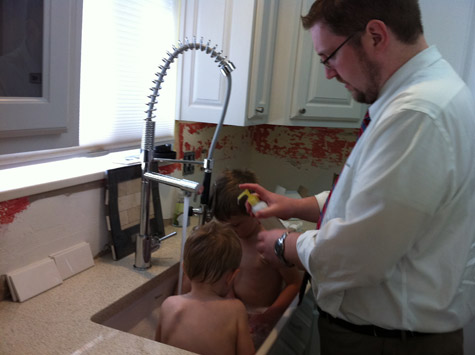 I was worried that the faucet was too big! I think it fits in well and I can still easily open the window in spite of the humongous faucet in the way now.
I love how its all coming along. And I look forward for it to be all done. After the back splash goes in, its time to work on clearing out the rest of the kitchen (two pinballs, an arcade, kitchen table) so that we can rip up the floor to get ready for tile. This will be a big job because we want to put the two pinballs in the garage and to do that, we need to clean out the garage. And it is basically frightening in there.