There were a few reasons for deciding to redo our kitchen, damaged counter-tops, wanting a change and wanting to enjoy it while we live here longer instead of remodeling right before we move (p.s. no plans of leaving anytime soon) that and a nice sized tax return.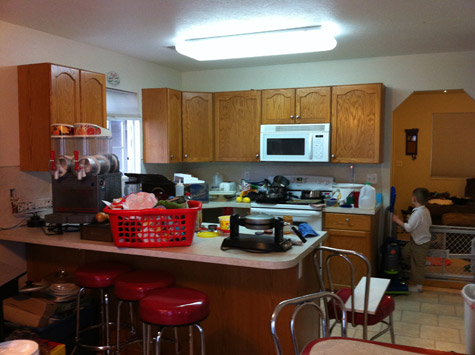 Before
I bought one kitchen and bath magazine and found my kitchen inspiration there. I loved everything about it, the white cabinets, the marble subway tile back splash, the light and bright feel. From there Mark and I looked on-line and using Pinterest found many ideas from paint, wainscoting, and even hardware (love Pinterest). This made it easy to keep track of the stuff we liked and it was easy to share it with each other.
After some price comparison, a few bids from other companies we decided on Brady Bobka from The Woodworks in Preston and Valley View Granite out of Tremonton. With the big decicions out of the way we started demolition. Mark and brother-in-law Gary started ripping out the cabinets. It was all done in one night, way faster than I expected. But it was great to get going on it.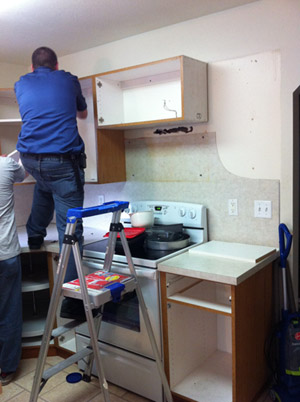 The boys starting to take off cabinets.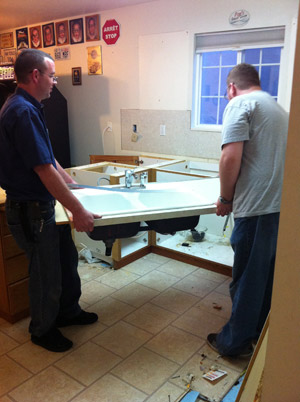 Goodbye sink!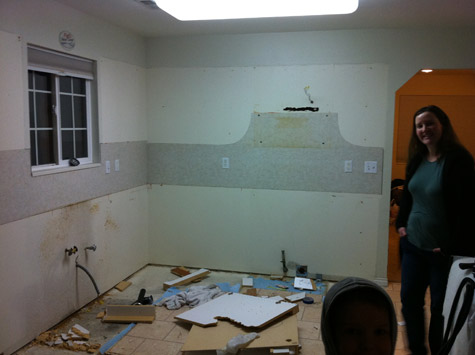 Sister-in-law Heidi checking out the empty kitchen. It really did look smaller like that.
Check back for more updates….