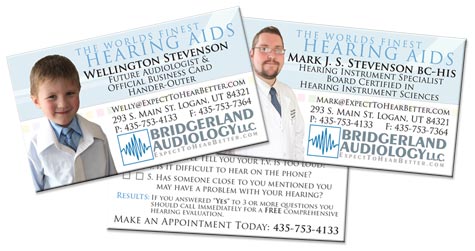 It's official, Marky is a Licensed Hearing Instrument Specialist! He's technically been licensed since the 5th of April, but they took awhile updating their web site.
Marky made some business cards for everyone at the clinic a while back, but didn't make any for him since he wasn't finished with the board certification yet. Once he finished, I went over and took a picture of him so he could make his new business cards. Welly was there "working" that day, so we took some pictures of him in his work clothes too (so cute).
Welly likes to go to work sometimes and help his dad "make hearing aids". He basically plays on the computer and looks really cute in his little "lab coat" his aunt Barbie made out of an old DI white church shirt, but he ALWAYS makes sure that everyone that comes in gets a business card (usually one with his pappy on it). We ordered up some business cards for Welly too and he is going to be so cute handing out his very own business cards with his cute picture on it to patients!
We're so happy Marky is finished with this part of his training, but he still has lots of school left up at USU to finish his communicative disorders and hopefully get into their Audiology program, but this makes it easier for him to work at the clinic while he's finishing his other schooling.