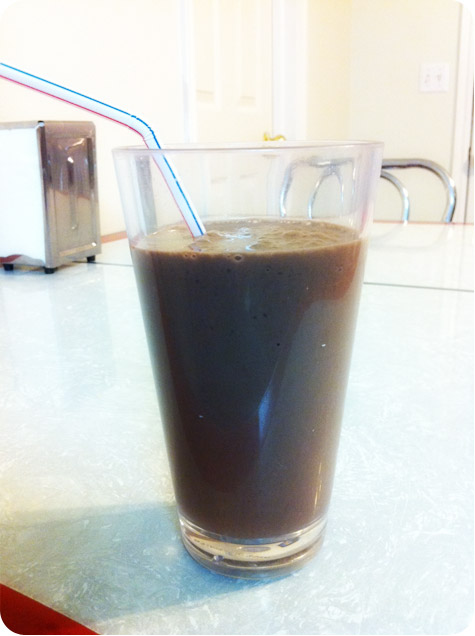 I have been trying to cut out more sugar in my diet (there is diabetes in my family, and I have a pretty well documented love affair with sugar on this site). It can be pretty tough, but we have been trying some new recipes and incorporating some sugar free items into our cupboards.
Marky remembered his family used to make these fake shakes with milk, pudding mix, banana, and ice. He whipped it up the other night and I can't believe I have been missing out on this all my life! It's really tasty, the pudding mix makes it thick, the banana gives it body, and since they make so many different instant pudding flavors (and sugar free too might I add), the fake shake flavors are limitless!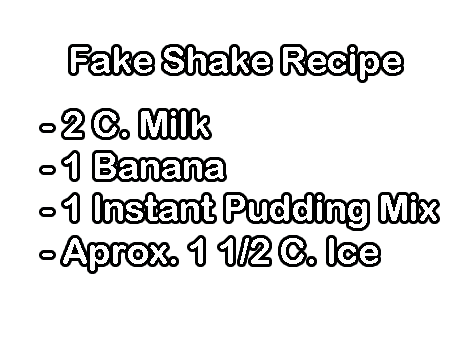 Fake Shake Recipe:
2 Cups Milk
1 Banana
1 Instant Pudding Mix (any flavor you like)
About 1 1/2 Cups Ice
Blend the milk, sliced up banana, and pudding mix until it is smooth. Add ice cubes to blender until the desired shake consistency is achieved (you can kind of play with this, but around 1 1/2 cups is what we usually use). Serve right away while it's nice and cold.
We usually make this with chocolate pudding (you can still taste the banana, but it kind of tastes like a Wendy's frosty I think, I've always wondered if they add banana flavor to their chocolate shakes). Vanilla pudding with some frozen strawberries would be great (strawberry banana is one of Marky's favorites). You could even add little bits of fun stuff like cookies or candy like real shakes (would just need to add them at the end so they don't get soggy). This is a fun recipe that uses ingredients most people have on hand and is really kid friendly (to make and eat). I won't go as far as calling it a health shake, but it's healthier than a real shake and has been helping me with my sugar intake.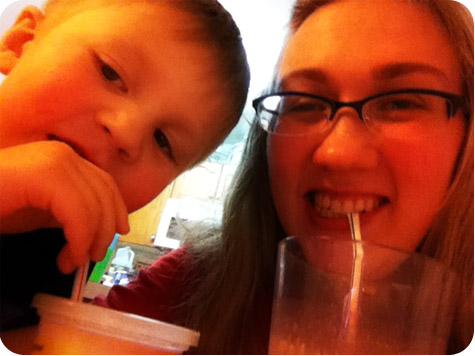 Me and Welly enjoying our fake shakes!