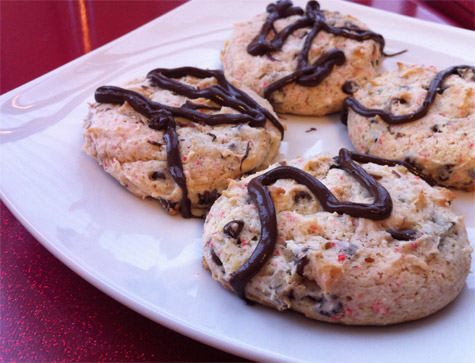 I'm really excited about these cookies. I've never made up a recipe before, so I was pretty proud of myself.
I'm sure that in the history of the world someone thought up these cookies too, and maybe there is even recipe like this one on-line this very minute! But after not having the right ingredients for a different kind of cookie, I used what I DID have in my pantry; a cherry cake mix, half a bag of mini chocolate chips and some pecans. I love cherry and chocolate together, so I figured it was a winning combination (again I'm not the first to figure this out)!
These cookies were fast and easy and turned out pretty good (polishing my nuckles).
Cherry Chocolate Pecan Cookies
1 Cherry Chip boxed cake mix
2 Tablespoons of Oil
1/4 cup of water
1/2 cup -1 cup mini chocolate chips
2/3 cup pecans
In a large bowl combine the cake mix, oil and water. Mix until all ingredients are wet (try not to over-mix) then add the chocolate chips. I used mini, but you could use whatever size of chocolate chips you have on hand. Place the pecans in a sandwich bag, then using a rolling pin or something similar, crush the pecans to smaller pieces. Add them to the dough and mix until combined.
Drop golf ball sized dough on to a lightly greased cookie sheet about two inches apart. Bake at 350 degress for 10-12 minutes. Remove from cookie sheet and cool on a rack.
Notes: Okay, I'm actually not 100% if it is golf ball sized, I use my medium sized ice cream scoop, and they were pretty good sized. I just couldn't decided if it was ping pong ball sized or golf ball sized. I love using ice cream scoops for cookies, it makes the cookies all come out the same size and really takes the guess work out of how big the dough balls should be.
I also didn't grease my pan. I use a Silpat Mat. I love my silpat mat, it eliminates greasing the pan and it makes for easy clean up. A great investment in my opinion.
I thought that the cookies needed a little something extra so using a few leftover chocolate chips, I melted them in a bowl in the microwave and then using a sandwich bag like a pastry bag I piped some melted chocolate onto the cookies.