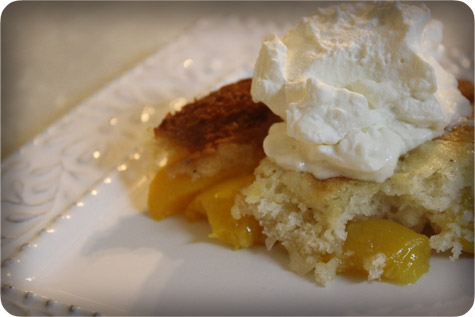 A fast and easy dessert with basic ingredients that the kids can help you with.
Canned Peach Cobbler
1/4 cup melted butter
1/2 cup flour
1 teaspoon baking powder
1/2 cup sugar
pinch of salt
1/2 cup milk
1/2 teaspoon orange OR almond extract (optional, each extract will give the dessert a different hint of flavor)
2 cups canned peaches
Preheat oven to 400°F.
Pour melted butter into a 9 inch square baking dish. I just put it right in the square GLASS baking dish and microwaved the butter in the pan.
In a medium bowl, stir together flour, baking powder, sugar and a pinch of salt. Stir in milk and extract of your choice, if using; mix only until combined.
Pour the batter over the melted butter in the baking dish.Ladle fruit over the top of the batter.
Bake in preheated oven for 25-35 minutes, or until batter rises to the top.
Serve as is. Good served warm or cold. Great with homemade whipped topping or vanilla ice cream!
Tip: We like to keep a few shelf stable whipping creams in our fridge. Shelf life is usually a couple months and with it in the fridge its ready to go! We use the Gossners brand.