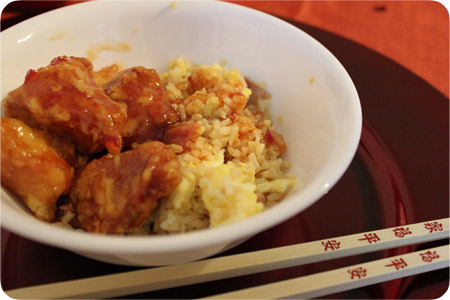 I've never attempted making Chinese food before, but I really wanted to add it to our repertoire of theme nights. I was really excited to try out something different, but a little unsure of how it would turn out. I was looking for something similar to the famous Tiny Spicy Chicken from Mandrian Garden in Logan. It was close, but not the same. It was more sweet than spicy. Both the boys ate it up, so it wasn't really that spicy.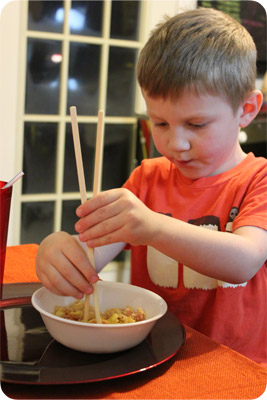 My favorite part of the whole dinner was the ham fried rice and watching Mark and Welly bug each other with the chop sticks.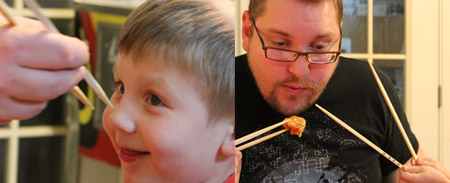 Both recipes were easy, but a little time consuming, but not too bad. I think next time I wont bread my own chicken, the meat department at Macey's in Logan has these great bite sized chicken pieces already breaded, ones with like sesame seeds on them and one that is seasoned with a spicy buffalo, hot wing type stuff. I would use the plan ones with the sesame seeds on them. Then I would just have to make the tiny spicy sauce and the rice.
For decorations I went really simple, just using what I had on hand, a tablecloth, fake flower, red chargers and some candles. I did buy the chopsticks from Macey's and they were pretty inexpensive. I also thought they were sturdy enough to wash and reuse. So that was handy.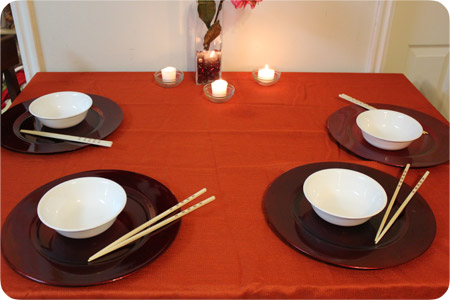 Mood music was a little hard for me to come up with. I didn't know what to search for, so I ended up using Pandora. I typed in Traditonal Chinese and it was fine, but not exactly what I had playing in my head. I'll have to work on the music for that.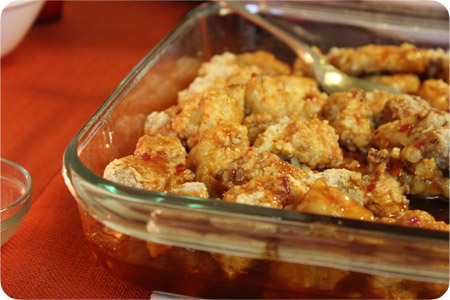 Tiny Spicy Chicken
4-5 chicken breasts cute into bite size pieces
1/2 t. garlic salt
2-3 eggs beaten
Corn Starch (I used a whole box)
Oil for frying
Sauce:
2 t. Sambal Oelek chili paste
1/4 c. ketchup
1/4 c. chicken broth
1/4 c. white vinegar
3 t. soy sauce
1 1/2 c. sugar
6 t. brown sugar
Cut chicken into bite size pieces and sprinkle with garlic salt. Refrigerate at least an hour! Then coat chicken pieces with egg then dip in corn starch making sure that each piece if heavily coated. Heat about some oil (enough to cover the chicken) in the bottom of a pan and deep fry chicken on medium heat until brown. Place deep fried chicken in a baking dish and pour sauce over the chicken. Place chicken and sauce in oven and cook for 45 minutes @ 350º, stirring every 15 minutes.
Sauce:
Place all the ingredients in a sauce pan and cook on medium heat until sugar is dissolved stirring constantly. Do not boil or double the sauce recipe.
The chili paste is easily found by the soy sauce or Chinese food section of your grocery store.
When I made this I doubled the chili paste and it was still not spicy enough for me. I think next time I'll cut down the sugar.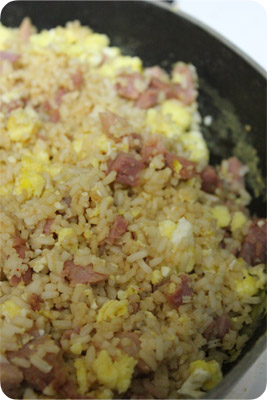 Ham Fried Rice
2 eggs, lightly beaten
1 1/2 teaspoons canola oil or vegetable oil
3/4 cup cold cooked rice
2/3 cup diced fully cooked ham
3/4 teaspoon garlic powder
1/4 teaspoon ground ginger
Dash pepper
1 dash chili powder
1 1/2 teaspoons soy sauce
In a skillet, cook and stir eggs in a little oil over medium heat until eggs are completely set. Remove and set aside. In same skillet, cook the rice, ham, garlic powder, ginger, pepper and chili powder if desired until heated through. Stir in soy sauce and reserved eggs. Serve immediately.
We just had ham and eggs in our ours….you can put in peas and carrots if you want. I also added a tiny bit more soy sauce. I think next time we'll try using Spam instead of ham too.
Such a fun dinner! Gotta try it!