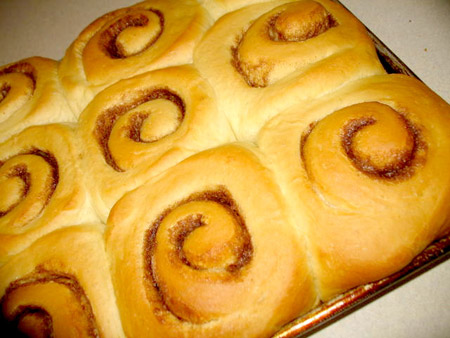 The rolls without icing, picture stolen from Heathers blog.
In the search for the perfect cinnamon roll recipe, we checked with Mark's sister Heather to see what she had. She is a great cook and has some pretty great recipes on her recipe blog! These cinnamon rolls are light and huge, and just the right amount of sugar and cinnamon filling. Her recipe is really our new favorite and I think it's safe to say the search for the perfect recipe is over. Heathers original recipe was for 2 sheets, but since our machine can't handle that much dough, we halved it and it still turns out fantastic.
The recipe makes 12 rolls, which are pretty good sized, but after watching a Travel Channel show that had these massive buns from a place in Texas, Mark had the idea to make 6 rolls from Heathers recipe instead of the 12. After cutting them to 6 pieces he put them on a small cookie sheet, making them rise up super huge.
As you can see, the roll next to my head is pretty huge.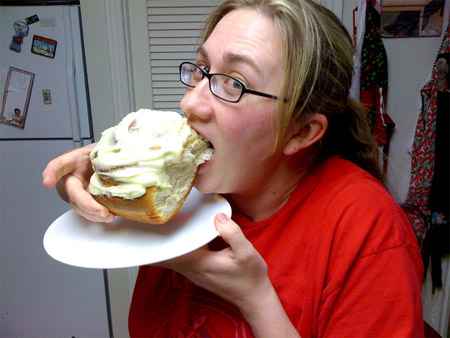 It should really be a Cinnamon bun for two.
Try this recipe! It is so good!
Giant Cinnamon Rolls
Dough
1 Tbsp Yeast
2 1/4 cup Warm Water
1/3 cup Honey
1/2 cup Vegetable Oil
1 large Egg
1 Tbsp Salt
6 cups All Purpose Flour (I prefer unbleached)
2 Tbsp Vital Wheat Gluten
Filling
1/4 cup Butter or Margarine
1/2 cup Sugar
2 Tbsp Cinnamon
Preparation
1. Mix yeast, water and honey and add 1/2 cup flour to feed the yeast.
Mix lightly and let it sit for a few minutes.
2. Stir in the oil, egg, and salt. Mix.
3. Add flour a cup at a time, using somewhere around 6 cups, give or
take, depending on the weather. You want a soft, slightly sticky dough
that pulls away from the sides of the bowl, but not stiff.
4. Turm your mixer on and knead the dough. Knead for 10 minutes! The
kneading is the key.
5. Place dough into an oiled bowl, cover with a damp tea towl, and let
rise for about 30 minutes.
6. On a lightly floured surface, roll out dough into a long rectangle.
7. Spread 1/4 cup of softened butter over top to within an inch of one
long edge.
8. Mix the sugar and cinnamon, and sprinkle the mixture over top.
9. Roll dough and pinch seam to close.
10. Cut the roll into 12 slices and place 3 across and 4 down on one
large greased cookie sheet.
11. Cover the pan and let rise until doubled.
12. Bake @ 375* F till done. Check on them @ 20-25 minutes, as they
are done when lightly browned. Let cool in pan.
Heather also had a great idea about not icing them all at once, but just icing them when you eat them. That way you can pop the roll in the microwave for 15ish seconds and warm it up, and then ice it and have the icing stay on top of it instead of sliding off the side in the microwave. We just use a basic vanilla icing recipe, but you can do whatever you prefer. Here are 2 icing recipes that should work fine if you need them, though I have never personally made these icing recipes, we just sort of eye ball the basics for our icing, if you try these let us know if they are good or bad.
Basic Buttercream Icing Recipe