A new oven has been on our wish list for a while now. Home Depot had a sale not too long ago and with a little Christmas money we got one! I was so excited because I have been cooking a lot more lately and having a newer oven, especially one with a light and a window would be nice. It's still so novel for me to be able to look into the oven and see what's going on in there. I sometimes sit in front of it with the boys and watch whatever is baking. (Such a nerd).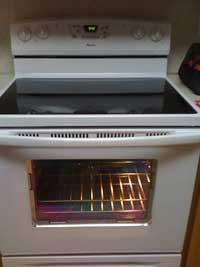 I've been really liking the flat top range too. The one we had before was getting pretty bad…some of the elements wouldn't stay down flat, so your pan would be all lopsided. I really like how easy it is to clean the flat surface too. I hated taking out those tin pans and scrubbing them out.
When the delivery guys came, as part of the delivery service they also removed our old oven. While one of the delivery guys moved the old oven away from the wall, the other guy said, "WHOA!!!! That's a lot of stuff!!!" I was pretty embarrassed of what was under there and that he was so shocked, I mean he's gotta see that a lot right? There was so much stuff….no wonder I couldn't shut the drawer on the bottom.