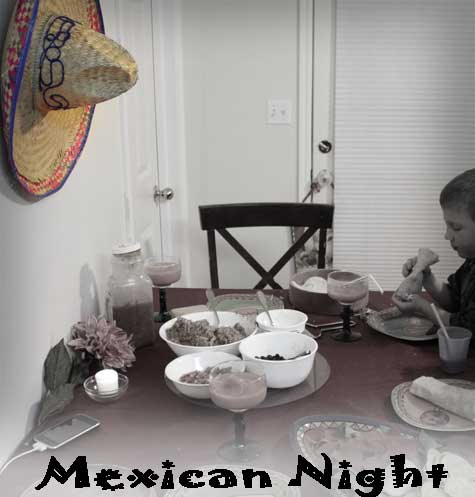 Make dinner fun with themes! On the menu for our Mexican night is Ground Beef Tacos with HOMEMADE TORTILLAS. VIRGIN TIGERS BLOOD MARGARITA and SPANISH RICE. To really make the dinner special you need music to go along with the dinner theme and a few simple decorations.
RECIPES
Ground Beef Tacos with Homemade Tortillas.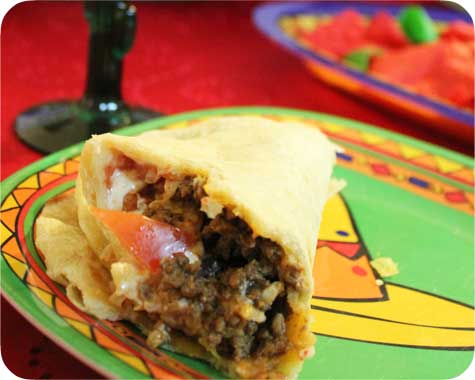 Taco filling-You can make it however your family usually does, we use 1lb. of hamburger with a taco seasoning packet.
Homemade tortillas-
This is a new recipe from the World Wide Ward Cookbook, I like it better than my usual recipe, it's my new favorite.
8 c. Flour
4 tsp. salt
1 tsp. baking powder
1 C. oil
3 C. boiling water
Stir together flour, salt, and baking powder. Mix in oil; there will be small lumps of oil in the dough. Stir in the boiling water, making a soft pliable but not sticky dough. You may have to add more flour or more hot water to get the right consistancy. Don't over mix to get rid of the lumps. Using a piece of dough the size of a small apple, roll out the dough onto a floured surface. Don't worry if the tortilla isn't perfectly round. Bake the tortilla over medium-low heat on a DRY pan. Don't use oil or butter. Makes 15 Tortillas.
I usually half the recipe for our little family of 4.
Spanish Rice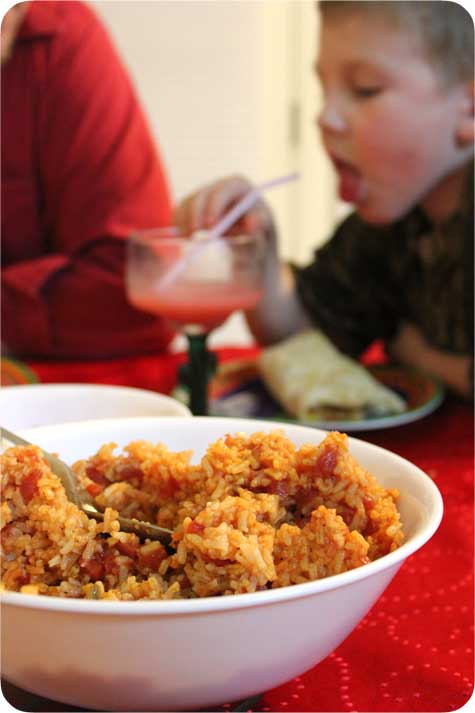 I have posted this recipe before and it's one of our favorites. You can make it as spicy or as sissy as you want it. It goes together quickly and freezes awesome! Click HERE to view the recipe.
Tigers Blood Margaritas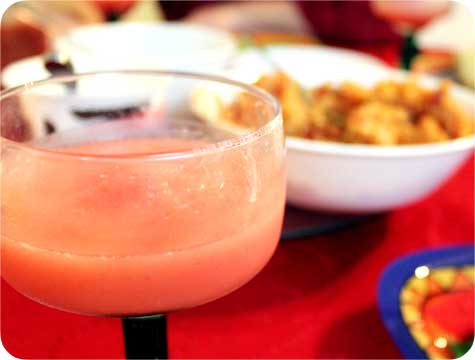 We made this up, it's easy and so yummy. Mix half a can of frozen Strawberry Bacardi Mixer with a half a can of Pina Coloda Bacardi Mixer (we only use half at a time because of our size of blender) Blend with ice and some water. Mix well. Bacardi has some fun flavors and I'm guessing just about any flavor and any combination of flavors would be fun for a drink.
MUSIC
I love the Gypsy Kings! It's upbeat and super fun, it will get you movin' and make you feel like your in an authentic Mexican restaraunt. Check them out!
DECORATIONS
They don't have to be expensive..a tablecloth, fake-y flowers, whatever goes with your theme. I found a sombrero at a thrift store for $2 for our Mexican night and it was fun because everyone wanted a turn to wear it.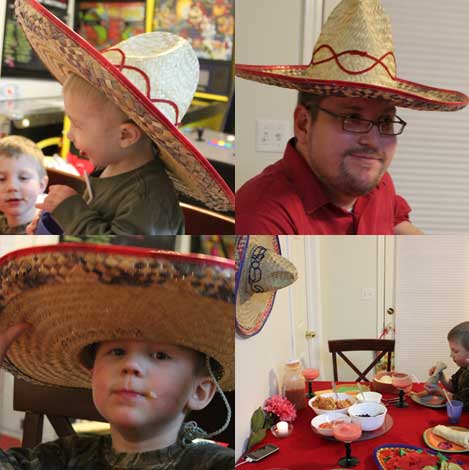 I love, love themed dinners! I know our kids like them, they know dinner is special when there is music and candles! I know your family will love the extra effort you made!!