I mentioned to my sister today that we were having some people over for a party, and she said sarcastically, "Wow, you have friends!?" and yes, it's true Barb, we have friends, and they just happen to be the best kind of friends!
Mark was called into the Elders Quorum a few months ago and he serves with the nicest guys. The wives, Ingrid, Kristen and Katie are all so awesome! I love, LOVE that we all get along. They are ALL seriously the nicest, funniest girls. They are all such good examples to me and I wish that we could hang out more.
President Davis (Tommy), suggested we have a Christmas Party. We were happy we could have it at our house because we love any excuse to share our arcades and the slush machine.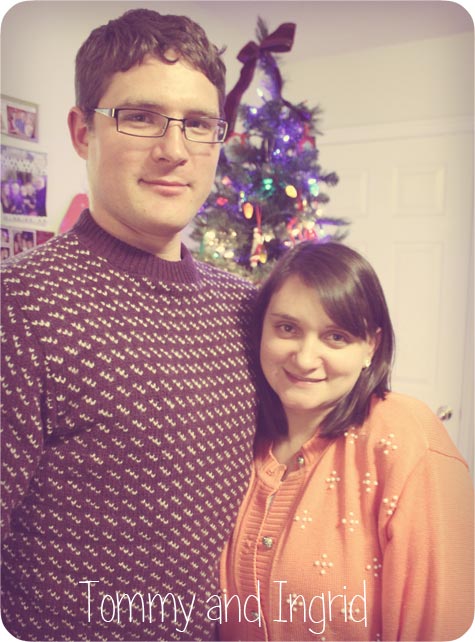 I love how Ingrid says what's on her mind, and Tommy, well, he's a spiritual giant! Kinda like this picture…he looks HUGE
All 7 kids from age 5 months to age 4 played very well together. Everyone brought great food and we had a feast! The guys played arcades and it was fun for us (the wives) to sit in the living room and listen to them have fun and cheer loudly when they would beat the other guy at Street Fighter.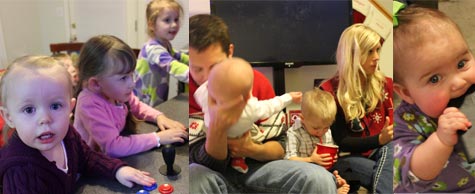 The kids were playing so nicely together.
We had an "ugly" sweater contest. But I'd have to say most of the sweaters looked pretty good on everyone! We all voted and Jeremy was the winner! He cracks me up, he is VERY willing and it seems like they both don't have a lot of shame…and I like that!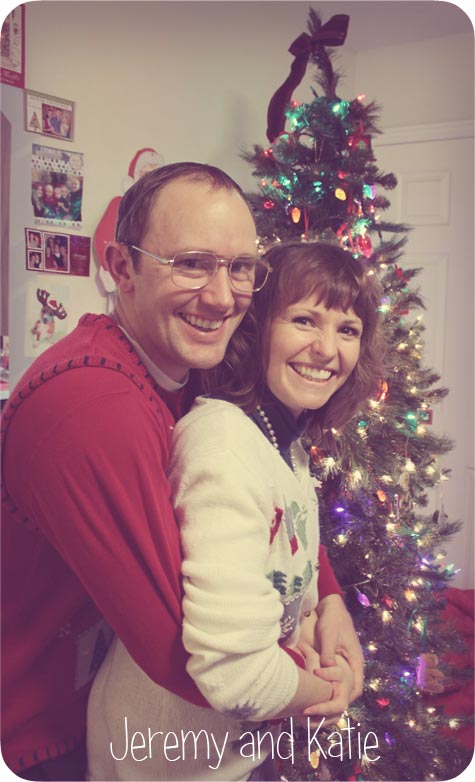 I think Jeremy and Katie were hoping to get on awkwardfamilyphotos.com
We also did white elephant gifts, and they were all so funny and clever! I was having so much fun that I accidentally stole a present from my husband not realizing it was his. I wish I would have gotten pictures of all the presents, they were all so funny. We got a Pirates of the Caribbean action figure that was perfect for Welly. He wanted to watch the movie right after everyone left. We also were the lucky recipients of a picture of Jeremy dressed up as "Kip" on Halloween. I feel like we should have gotten him to autograph it. It's proudly hung in our arcade kitchen now.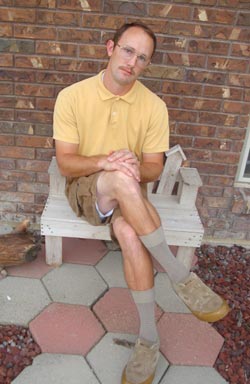 This is the picture!!! It think I'll laugh every time I see it.
Somehow Mark and I didn't get a picture in front of the tree. Oops. We were having too much fun chatting and chasing kids around.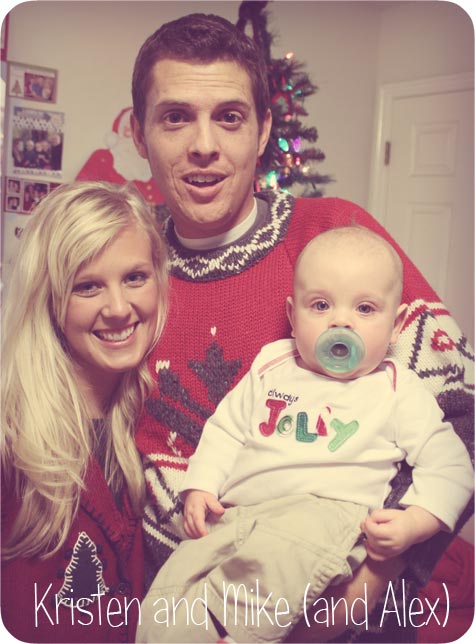 Cutest family ever! Kristen is always smiling and is so sweet, Mike is so friendly and baby Alex is the chillest kid! I loved that Kristen got Mike a women's sweater and it didn't fit him, but he wore it still. Sounds like another very willing hubby!
Mark and I had a great time and I think we're both very thankful for his calling at church for many reasons, but for one…. we've made some new fun friends!