This year for Halloween Welly said he wanted to be an Army guy. It made things pretty easy on me because we already had the camo pants. Some friends of ours gave us a hunting shirt that looked camo (he's not wearing it in this picture, we changed it half way throughout the day).
I did buy a few things to complete the ensemble…a dollar store gun and hat (we really broke the bank on that one). The most expensive thing I bought for the costume was a fluffy pull-over jacket that was a whole $7.00! I thought it was a great buy because he can wear it all the time.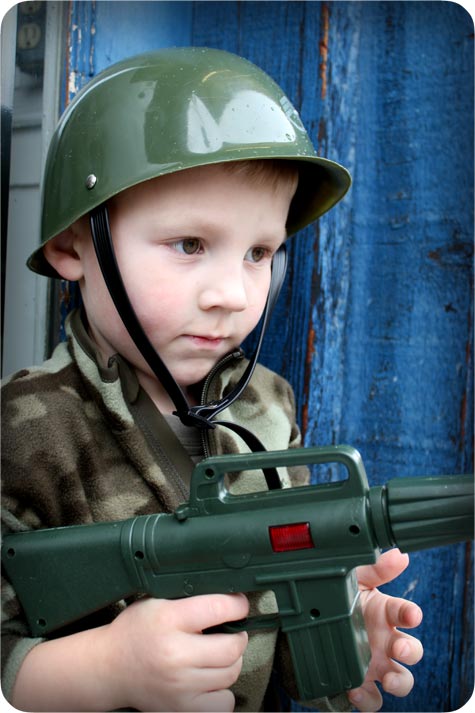 Hilyard's costume was super easy because it was a hand-me-down from Welly. He was pretty cute in that monkey costume. It was perfect for him because he is such a monkey boy.
The first activity of the day was going to the mall to tricker treat with family. Aunt Barbara, cousin Sadie, Auntie Carrie, Grandma, cousins Jeff and Dianna and their new baby Jace was there too. The mall was packed this year and took longer than usual to make the rounds. The kids had the funnest afterwards playing on the kiddie rides and eating candy. My boys also loved it when Grandma walked around with them when the line was moving so slowly.
After the mall, We meet up with Mark and took the boys downtown. It was a little cold and rainy, but it was fun. I love walking around downtown anyway so I didn't mind. I pushed sleepy Hilly in the stroller while Mark took Welly in the different shops. We found that we got the most candy off main street and down the little side streets.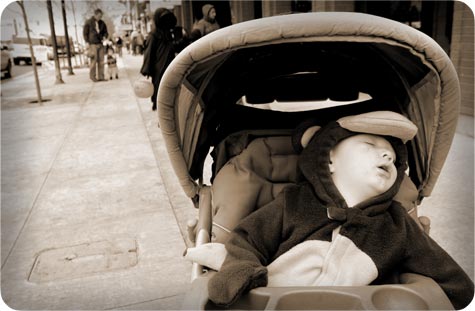 Later in the day, after naps we went to our wards Halloween activity, where we enjoyed yummy chili and the company of friends. We got even more candy there!
Mark and I also had a date that night. Our first date was on Halloween, 12 YEARS AGO!!!! So I thought it would be fun to take Mark out on a date that night, kind of a first date anniversary thing. Mark's Mom was super generous and watched the boys while we went to USU's Halloween dance. It was a good idea in my head and we did have fun, but we realized we are WAY TOO OLD to do anything like that again. Everyone around us was so young, we recognized maybe one song and everyone was singing along to the songs we didn't know. It was pretty funny. We also thought the music was too loud. We gave up on dancing and went to see a magic show. We like that sort of thing and we had lots of fun. We went to a magic show before and had lots of fun, so this was a perfect activity for us…no dancing. After that, we hung around for a bit then we went and got a hamburger and headed back home to pick up the kids.
We had a great Halloween with the boys and a fun date. I'm looking forward to Thanksgiving now, snow and lots of baking!