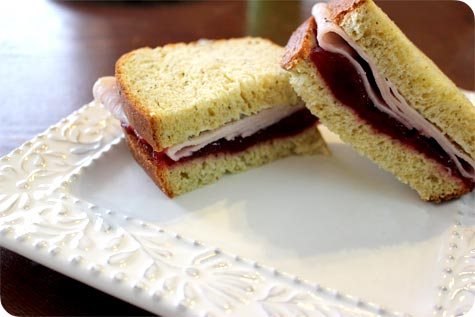 Since me and Marky have been taking our bread making class, we have been on the lookout for some fun bread recipes to try. We found one that uses many of the same ingredients as turkey stuffing, and we thought it would be fun to try it out.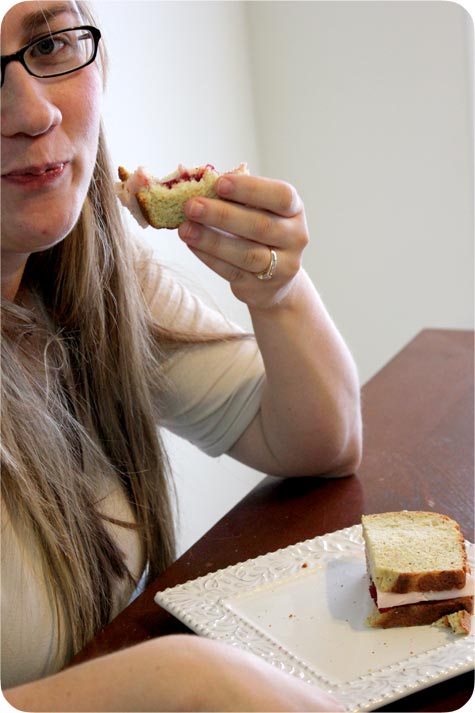 I loved it! We spread a little mayo on it, put on some cranberry jelly, and a few slices of turkey. It tastes just like thanksgiving leftover, it is so great. As a bonus, it also made our house smell heavenly!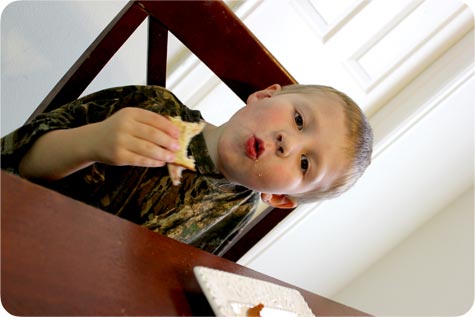 Here is Welly enjoying his sandwich. I wasn't sure he would like the cranberry sauce, but he ate it right up and said he really liked it.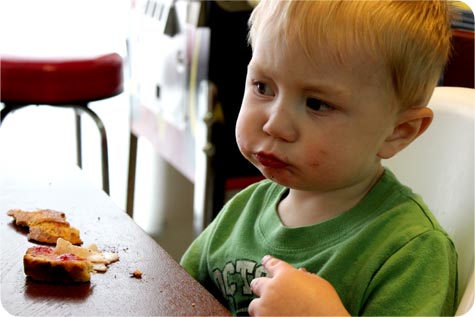 Even though Hilly doesn't look like he's enjoying it too much, he ate quite a bit of it and seemed to really like it too.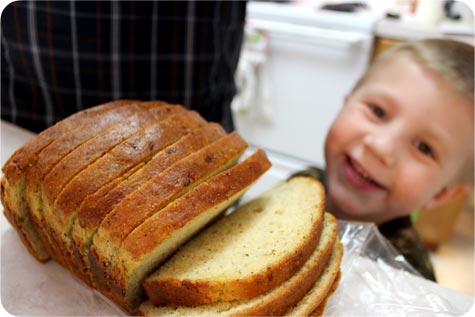 Once it cooled down, Marky sliced it all up with the electric knife. It worked great, that is the way to do it. We chop it up, and then put it in a bread bag (they sell them at Maceys, come with the twist ties too).
Thanksgiving Leftover Bread Ingredients:
1 C. Water (warm, for yeast)
2 1/4 t. Yeast
1 t. White Sugar
3 C. All-purpose Flour
2 T. Instant Milk
1 t. Salt
1 t. Chicken Granules Bouillon (optional, but add 1/2 t. more salt if you omit this)
1/3 C. Yellow Cornmeal
1 T. Gluten (optional, but gives a better texture if you have it, you can also omit this if you use bread flour instead of all-purpose flour)
5 t. Dried Onion Flakes
1 1/2 t. Celery Seed
3/4 t. Poultry Seasoning
1/2 t. Rubbed Sage
1/2 t. Ground Black Pepper
1 Egg
1 T. Butter (softened)
2 T. Honey (can use brown sugar instead if you prefer)
Thanksgiving Leftover Bread Directions:
Start by putting 1 teaspoon of sugar in 1 cup of water that is the temperature you would use to wash a small child's hands. Add your yeast to the water, and mix with a clean spoon, set aside and allow the yeast to activate while you prepare the dry ingredients.
Next, in a big mixing bowl, combine 1 cup of flour, instant milk, salt, chicken stock granules, cornmeal, gluten, dried onion flakes, celery seed, poultry seasoning, rubbed sage, and pepper. Once it's mixed well, add the butter, eggs, honey, and yeast water. Mix until all ingredients combined. Continue to add flour 1/2 cup at a time until dough forms (still a little sticky, more flour will be incorporated during the kneading).
Let the dough rest for 10 minutes. In a microwave safe bowl large enough to allow your dough to double in size, spray with cooking spray. Place your dough into the bowl, making sure to turn the dough in the bowl to coat the entire outside of the dough with the cooking spray from the bowl. Place in your microwave along with a small glass of water (the water makes sure the dough doesn't get too dry), and microwave for 30 seconds. Check to see if the dough is warm, if it is not warm to the touch, microwave for an additional 10 seconds. Continue this process until the dough is warm to the touch (not hot, if you microwave it too much, it will kill the yeast). Let it rest until it is doubled in size (about 20 – 30 minutes), then punch down dough and form into a ball again, and microwave for 15 seconds. Check to see if the dough is warm, if it is not warm to the touch, microwave for an additional 10 seconds. Continue this process until the dough is warm to the touch (just like before). Once it is warm again, let rest until doubled in size again (about 10 – 20 minutes), then punch down dough.
NOTE: If you live in Utah (because of our altitude) we have to let the dough rise 3 times and punch down 3 times before shaping it into a loaf for a good texture.
Once the dough has risen and been punched down the appropriate amount on times for your altitude, you are ready to shape it into a loaf. After punching it down the last time turn the oven to 200* F and begin to shape it into a loaf appropriate for your loaf pan. Lightly grease your loaf pan and place the loaf into the pan (pulling the loaf tight to one side of the pan, this allows for a more even rising and even loaf). Once the oven is preheated to 200* F, place the dough into the oven for 10 minutes.
After 10 minutes, remove bread from oven, and turn oven to 375* F. Allow the bread to rise in the pan while the oven preheats. Once the highest part of the loaf has risen to 3 3/4″ – 4″ from the bottom of the pan, stick it in the oven and bake for 25 – 30 minutes. You may need to put foil over the bread half way through if the top is browning too fast.
Once it's finished baking, pull it out of the oven and remove it from the bread pan and place on a wire rack to cool (I usually just stick it across the bread pan to cool, whatever works best for you, but you have to let it cool out of the pan otherwise the inside will turn doughy). Brush the top of the loaf with margarine or butter, then allow it to cool 15 – 20 minutes before cutting into it (otherwise it will turn doughy again).
This recipe was originally a bread machine recipe, so you could make it in that, or with a mixer too if you don't want to knead by hand, but that is just how the teacher in our bread baking class is teaching us, so that is how I am making bread. This bread is delicious with a little mayo, some cranberry sauce, and some sliced roasted turkey breast (salt and peppered to taste). If you have left over turkey, I bet it's even better with that. Next we want to try to make these as rolls, if they work out, we may try to make them for our Thanksgiving dinner (mmmmm, it would be so tasty sopping up some turkey gravy with one of those rolls).