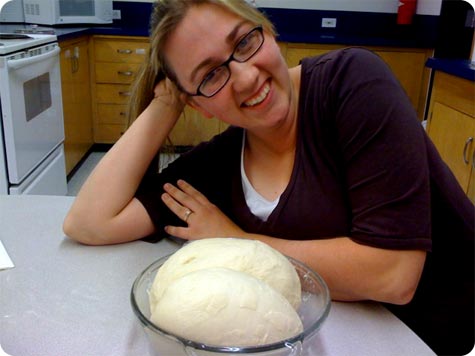 Me and Marky signed up for the community beginner bread making class. I signed up first, but then Marky told me he thought it would be fun to take together (I didn't twist his arm at all, he volunteered…I think he just wants to make sure I learn how to make home made bread).
Last night was our first class, it was fun. We didn't actually make the dough for the first night, the instructor made all the dough earlier, we just kneaded it and shaped it into loafs, and then baked it. It was more to just get used to working with dough, next week we start from scratch.

Each week is a different kind of bread ranging from standard white bread (last night), dinner rolls, cinnamon rolls, braids, filled bread, and ultimately a fancy Santa Clause face bread. She even mentioned on the last day of class they do a pie dough lesson, but my awesome sister in law Heather already beat her to the punch!
I had a lot of fun last night, and am glad I get to take the class with Marky. I've already learned a lot in the one class, including a cool tip for rapid dough proofing in the microwave (sounds crazy but it worked awesome). We tried the bread last night after letting it cool, and it was great, can't wait to try some of the other fancier breads in the coming weeks.