Even though Mark is allergic to dogs we got a puppy! He's so cute and I think we will call him Slush.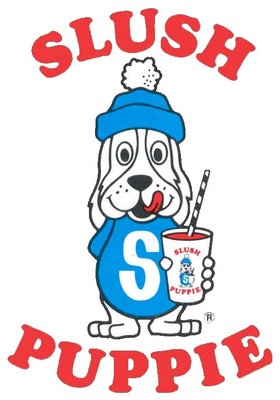 Because I don't want to live in a world where a family doesn't have an emergency backup slush machine, we now own a Stoelting 100-F Slush Puppie stand up granita frozen drink dispenser.

That isn't a picture of ours, but very similar. We do not have the same artwork package, ours is more "retro" and the plastic pieces on ours, including the spinning cup up top, is white, and we also do not have the side cup holders. But the machine underneath all of that is the exact same machine we have now. We will get some actual pictures of the machine up once we have it cleaned up and running in our kitchen!
I found it listed on KSL in Tremonton for a really good deal. After texting the seller back and forth (he was a really annoying kid that was being kind of flaky) we finally decided on a time to come see it. We drove out to Tremonton, looked it over, and decided it was the only thing that could make a girl like me and a boy like Marky truly happy, so we loaded it up and brought it back home.
It needs a scrub, and we may do some sort of different artwork (I actually like the more retro looking stuff though, seems like they are trying to be too "hip" with the new logo and artwork), but that will be a little while down the road. For now, we just want to clean it up, get some neutral base and syrups ready, and try it out.
When we went to pick up the machine, we had to drop off Wellington with his aunt and uncle so we could remove his seat so the slush machine would fit in the van (THANKS SO MUCH SCOTT AND KORBY!). When we got back to pick him up, he was having so much fun, he didn't want to leave, so Marky told him "But Welly, we have a new puppy at home, do you want to go see him? He's in our garage!". Of course Welly ran out of there so excited to see our new puppy, so when we got home, he jumped out of the van running over to the garage, looking all over to try and see the puppy. We felt pretty bad as we explained that the new machine was the new puppy, he seemed to take it well, and I'm sure a delicious frozen beverage will help ease the pain of having the world's meanest parents, but he sure was cute trying to find the puppy in our garage (poor kid).
Enjoy the embedded videos below that kind of have something to do with slush puppies…or not.

"You do know how to snow ski don't you?"