Mark makes me laugh. He always has, but why does he have to do it when I'm trying to take a picture?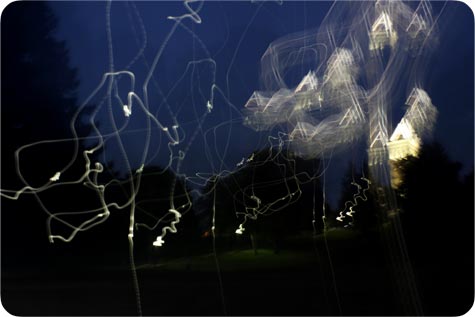 I was trying to practice taking some night time shots (obviously). I was using the slowest shutter speed to see what it would do…I was taking an awfully long time doing it, so from the car behind me Mark was yelling things at me.
I had watched the entire series of Travels to the Edge, a show about a National Geographic photographer (who mostly does wildlife photography) and in one episode he said that sometimes to get that PERFECT shot he'd lay in waiting for hours, sometimes he couldn't move so he'd have to urinate on himself. I heard Mark say something about taking my time and I might have to urinate on myself…and I started laughing.
I think next time I'll bring my tripod and leave Mark at home. Just teasing, it was so fun have Mark come along with me, he usually doesn't get to. Mark was very willing to drive me back and forth between the University and the Temple to get some fun sunset then night time photos.