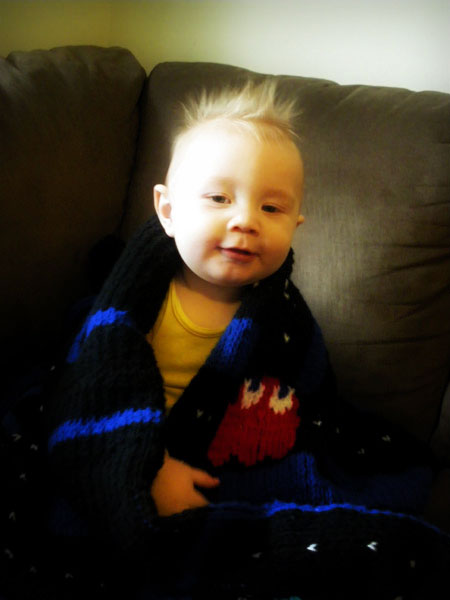 Holly is a master knitter and has been EXTREMELY generous with her talents. A while ago she was kind enough to help fix a siwash (knit sweater jacket) that Marks grandma knit for him when he was little (more info and a picture). She sent us a a baby present for Hilyard the other day and IT'S SO INCREDIBLE IT DESERVES THIS ALL CAPS EXCLAMATION!
She called to let us know that something was coming, but didn't say what it was, but as usual, was very humble and mentioned several times "It's not really all that good, it's the first time I've done something like this, so it's kind of just ok…". Holly is a liar, the blanket is amazing. When Mark opened the box he said "I don't want to let the kids touch it, I'd rather frame it and stick it up on our wall…"
In case you don't know, she knit the blanket to look exactly like a Pac-Man arcade screenshot. She knit every single dot (including the larger power pellets) and got all of the colors of the ghosts and maze and it's just incredible. We actually got this blanket right before Christmas, but wanted to get some fun shots of Hilly with his blanket before we posted about it. This honestly is such a special blanket, the amount of time she must have spent on it, and it's just perfect for our little nerd in training, thank you so much Holly, you seriously rock (way to make the pontoofs we're sending you look like crap, we have shame

).