My lil' sis has encouraged me to start blogging more. I'll give it a try B. Here is an awesome recipe! If you've ever had an english muffin from Macey's bakery or shaffers bakery, these are it. Not just a copy kat recipe, but the actual recipe. We got connections.

Mark has made these a few times. The trick to getting the flat shape it sandwiching them in between two cookie sheets. Use baking paper or two sil pat mats to avoid sticking.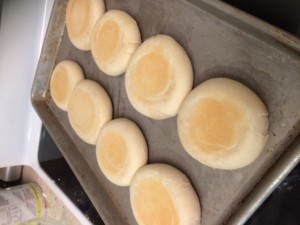 There are not a lot of instructions, you kind of need a basic knowledge of bread making. You might not need all that flour either. Start with 4 cups. And then only use enough flour so that as the hook is spinning the dough around it "cleans" the bowl. I just really need to make a video of it. I'll work on that, in the mean time here is the recipe.
ENGLISH MUFFINS
1 Package Yeast active dry yeast; (equivalent to 2 1/4 teaspoons)
2 Cups Warm Water; (baby bottle warm)
1 1/2 teaspoon Salt
2 teaspoon Sugar
2 teaspoon Vinegar
5 – 6 Cups Flour
Mix water and yeast, let rest for about ten minutes making sure the yeast foams and is active.
After yeast foams, add all of the rest of the ingredients, starting with about 4 cups of flour and, start mixing (if you have a mixer, use your dough hook, if doing it by hand, you will need to start with 5 cups of flour).
Add flour a little at a time until you have a fairly stiff smooth dough. Take the dough on a lightly floured surface and start dividing it in halves. Ultimately you want 16 small little equal sized dough pieces.
Place a piece of parchment paper (or silicon mat) on the bottom of a cookie sheet. Roll and shape each of the small dough pieces into a round ball, and place on the cookies sheet, leaving enough room for them to spread out (I choose a 2 x 4 pattern, so they were laid out as follows):
0 0
0 0
0 0
0 0
Then place a sheet of parchment paper on top of them, and place an empty cookie sheet on top of them, giving a little push to flatten out the top of the english muffins, but don't squish them too thin. As they rise, the sheet will press down and make it so they rise out into an english muffin shape.
Let them rise until muffin sized (about 1.5 – 2 hours) and then bake at 350 degrees fahrenheit for ~15 minutes. Leave the cookie sheet on top of the english muffins while baking, this helps them keep they're shape and stops them from browning too much (you don't want them very brown since they need to be toasted).